Band-Aid bandages and tins have an interesting history of their own as well.
An unlucky housewife and her innovative husband were the people responsible for the Band-Aids you use today. According to Johnson and JohnsonÕs, Band-Aid story, the creation of the famed adhesive begins with a young housewife named Josephine Dickson who lived in New Brunswick, N.J.
She tried her best to do her daily housekeeping chores, but due to consistent mishaps and clumsy attempts to cook dinner, she would end up with burns and cuts on her hands. Since convenient bandages weren't available at the time, her husband Earle would wrap cotton gauze on the injuries and secure them with adhesive tape.
Because poor Josephine kept injuring herself on a daily basis, Earle decided to make a bunch of ready-made bandages to have on hand when Josephine had another unfortunate kitchen accident. Earle told his boss at Johnson & Johnson about his easy-to-use bandages idea, and thus Band-Aid strips were born.
A year later in 1921, Band-Aid bandages were first made to the public. They were handmade and weren't exactly a big hit with the consumers. But soon enough improvements were made, and the bandages became a common item in everyone's medicine cabinet.
It's not clear on the Band-Aid timeline when bandages stored in tins came on the market. However, when decorated adhesive bandages were available in the 1960s, it only made sense that the tins became fun collectibles rather than just boring storage containers.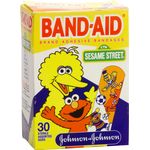 If you look the various containers on Savetz's site, 75 Years of Band-Aid, you'll notice the styles change with the times. One tin features a chic mom in a blue blouse and pearls as the cover model, while another tin has some fun with a stars and stripes motif. Lately, Band-Aid has followed the marketing trends of what movies and cartoons little tykes are watching these days.
A random search using the word Band-Aid at an online auction will probably spit out a list of boxes, instead of tins, displaying images of Mickey Mouse, Sesame Street and Pokemon. Band-Aid also has promotional gimmicks where they place toy cars and other trinkets inside their packaging like a box of Cracker Jacks. But if you take the time to really search, you might find an antique tin from the '40s that will make your collection worthwhile. Who knows, maybe in the next house you move to there will be a myriad of Band-Aid tins lurking in the garage.

Bonnie Burton, creator of Grrl.com, writes about dating dilemmas, online auction addictions and Internet culture for various magazines and Web sites including MissClick, Wired, Yahoo! Internet Life and Excite@Home.