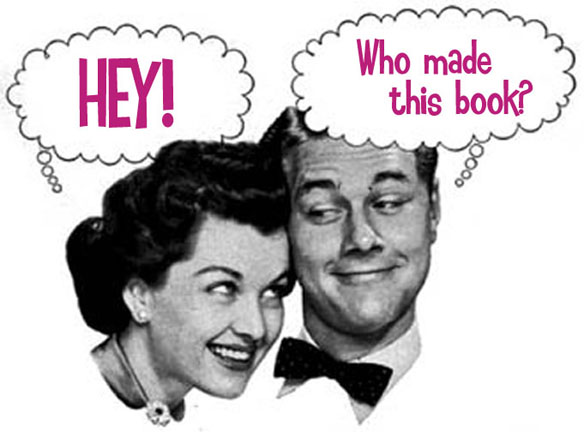 It took us about a year to find fantastic blogs, read through all of them (we're talking hundreds here, folks), pick out the best, vote on them, interview bloggers. and so on. And sure enought Never Threaten To Eat Your Co-Workers: Best of Blogs came out smashingly thanks to the people below.
Bloggers Featured:
---
Editors:
Bonnie Burton - Grrl.com
Bonnie Burton submersed herself into Web culture long before the word "blogging" was even coined. She's written about everything from online dating adventures to unusual eBay.com collecting obsessions. Her work has appeared in the magazines Wired, The Net, Yahoo Internet Life, BUST, and Organic Gardening as well as online at Backwash.com, Winamp.com, and Teenwire.com. She has appeared as a Web culture media expert on E! Television, CNN Headline News, BBC, ABC News and TechTV; and has been featured in the books: Complete Idiot's Guide to Online Dating and Relating, Net Chick, Fierce.Com, Alt.Culture: An A-To-Z Guide to the '90s-Underground, Online, Over-TheCounter, and The Real Bettie Page. Her Bonnie Blog and additional columns can be found on her Website, Grrl.com.

Alan Graham - His author blog
Since leaving the business side of technology for a writing career three years ago, Alan Graham has become an author for O'Reilly & Associates, Apress, and WordWare, and he has written for Macworld magazine, MacAddict magazine, and the O'Reilly Network.
Illustrator:
John Burton - Johntown
graphic designer and freelance illustrator living in Conneticut. His recent projects include illustrations for Teenwire.com, Grrl.com, and various other pop culture Websites. To see more of his illustrations, bizzare haiku, and unfinished plays, visit his Website, Ragingsquirrel.com.
Advisors & other key folks:
Pam Ribon - pamie.com
Pamela Ribon is the creator of the hugely successful pamie.com and a writer for TelevisionWithoutPity.com. Her debut novel, Why Girls are Weird, landed on Bay Area bestseller lists in its first month. She has since optioned the film rights and is penning the script. She created, directed, and performed in the cult hit "Call Us Crazy: The Anne Heche Monologues," which drew attention from several major publications, including People magazine and The New York Post.

Jack Boulware - jackboulware.com
Jack Boulware is originally from Montana, and he is the author of two nonfiction social history books, Sex American Style and San Francisco Bizarro. He has received a handful of journalism awards and writes regularly for a wide variety of publications. Stories have taken him to Greenland, Mexico, UK, France, Ukraine, Puerto Rico, Hawaii, and throughout the lower 48 states. In a previous life, he was founding editor of the satirical investigative Nose magazine and a columnist for SF Weekly. He is co-founder and co-director of the Bay Areaźs annual Litquake literary festival and is currently working on two new book projects.

Rick Karr - NPR
Rick Karr reports on culture and technology for National Public Radio News. He's also a musician, songwriter and record producer. He's currently writing a book-length history of the technology of popular music. He lives in Brooklyn with his wife, artist and filmmaker Birgit Rathsmann.
---
Back to Best of Blogs