Not every girl has a role model. Not every girl has a role model who captured the hearts of men with a whip in hand and an innocent twinkle in her eye. Not every girl wanted to be the mysterious 1950s Queen of bondage pin-ups, Betty Page.
I did.
Her image of short black bangs, ultra high heels and a Southern smile graces everything from men's magazines and adult comics to cult film and full-color tattoos. She modeled for about a decade in jungle wear for Miami photographer Bunny Yeager and in bondage gear for New York City brother and sister photography team, Irving and Paula Klaw. According to Yeager, Page was one of the most photographed models in America, pictured more than Cindy Crawford and Marilyn Monroe combined.
I'm not sure what first drew me to this Southern Belle of Bondage, but I ended up on a quest to find out about her life and pay tribute to her in any way I could. I collected all comic books that borrowed her image--such as Pentacle, Phantom Lady, The Rocketeer, and Vampirella. I went into a mad frenzy to dig up her 1952 January holiday pinup picture in Playboy magazine from the archives, where they keep the porn and nudie mags, in my college library.
Below: Bonnie Burton in her prime.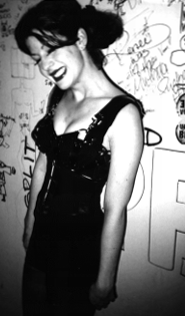 I entered Betty Page look-a-like contests. My 21st birthday cake read "Happy Birthday Betty." So a simple obsession with Ms. Page would be an understatement of the situation. I didn't just admire her life, I wanted to know every detail, down to her disappearance in the late 1950s.
"She wasn't like any other pin-up model of the 1950s because her smile reassured you that it was okay to feel good while looking at her pictures," said Greg Theakston. Theakston, founder of the recent national tribute fanzine, The Betty Pages, knows more about Page's life than she probably remembers. Like myself, Theakston went on a quest to find out the background behind one of the country's most alluring and mysterious pinup models. He wrote various books and is considered by most fans to be the expert on her life and her appeal.
"I'm a firm believer the camera captures a little bit of the soul and Betty's honesty and freshness were believable," Theakston said.
Betty Page's story begins with her birth on April 22, 1923, in Nashville, TN. When she was ten years old, her parents divorced and Betty was temporarily placed in an orphanage with her two sisters. Once in high school, Page was editor of the school newspaper as well as a cast member in numerous school plays. Her desire to act would soon drive her to live in Hollywood and then New York.
Page attended a teaching school and married her high school sweetheart, but acting called and she answered. Divorcing her husband and moving to Hollywood led her right into a disastrous screen test with Twentieth Century Fox. Page told her photographer, Bunny Yeager, in the July 1993 issue of Interview magazine, why the screen test failed so miserably:
"They changed my makeup and my hairdo to make me look like Joan Crawford. I didn't look good with my hair bunched out on both sides, and with my mouth made up real wide. It didn't even look like me when I saw the test," Page said. "They also said I had a very pronounced Southern accent, and they didn't want to work with that."
Page moved to New York City in hopes she would run into luck. Around 1950, Page found luck wandering Coney Island, and his name was Jerry Tibbs. This Brooklyn police officer and weightlifter convinced Page to pose for pictures and to cut her hair into the bangs she became famous for. Page changed the spelling of her first name "Bettie" to "Betty" for the pin-up pictures only.
Besides her black bangs and warm smile, fans adored Page for bringing charm and grace to the otherwise taboo theme of bondage. In 1951, the New York photography team of Irving and Paula Klaw began photo sessions with Page. Ultra high heels and staged spankings from other domination models became core elements in her image. For Klaw mail-order movie stills business, Movie Star News, Betty Page was their most requested model.
"She was beautiful," said Paula Klaw. "She's much better than the models of today."
The success lead the Klaw team to expand into 8 mm film shorts featuring Page in skits with the titles "Betty & Her High Heel Shoes" and "Betty Gets Bound and Kidnapped." Her most famous skit is as a maid in the cult classic "Teaserama."
With the Klaws, Page was at the height of her career, rejecting possible love affairs with playboy Howard Hughes for prestigious acting lessons at the Herbert Berghof Studio.
"Paula and Irving Klaw were instrumental in Betty's image as an icon," said Robert Schultz, founder of the official newsletter of The Bettie Scouts of America, Fond Memories. "Betty just wasn't a pin-up star until she worked with the Klaws."
Along with the Klaws, Page did her famous jungle shots with Yeager and later became a Playboy Playmate. She also participated in private photo outings with camera clubs on the weekends.
At the height of her modeling career in 1957, she disappeared from the photo clubs of New York City and from the magazines altogether. Some fans thought it was due to the hearing the Klaws faced on charges of obscenity in 1955 under Tennessee Senator Estes Kefauver. Some thought Page married a sheik and left the country. Others thought the Mafia arranged her death for rejecting the love of a cherished gunman.
Well, when Page finally came forward to grant an interview in Interview, she revealed her love for a special man, and the most unlikely for the girl of curves--Jesus Christ.
Page had turned to religion after a vision and worked full time for the Billy Graham Crusade.
"I was getting old [34] and needed to move on," she told Yeager, "and I just think Jesus would not want me to model anymore." And that was that. Or was it?
After Page left the modeling scene, her image faded during the 1960s and 70s, but in the 1980s and 90s her it's back and arguably more popular than before.
In my quest to find Betty and pay tribute to her look, I've seen her image in books, comics, record albums, fashion runways, and French Barbie dolls. Betty's look and attitude have influenced much of what we see today in film.
A Page fan on the Internet, Jason Harvey, said: "As bondage and the implication of it became more frequent in cult films like women's prison films and earlier work by Russ Meyer, the levity with which it was used eventually gave rise to the modern hardcore films we all know and love. Thanks to Betty in her Klaw films, cult movies were influenced heavily by her dominating and submissive roles."
Once you see more of Betty Page, it's difficult not to notice her influence on pop culture in general. Tribute fanzines like The Betty Pages and Fond Memories sell out faster than comic book stores can replace them. I've spotted Betty's image custom-painted on Harley-Davidson motorcycles as well as custom-tattooed on bikers. Bands like My Life with the Thrill Kill Kult, Lords of Acid and Old Skull use her photos on album covers.
Even the mainstream Madonna copies Betty's style in music videos. The Betty Page Look has been replicated so much that maybe people believe it was the typical 1950s look, not realizing that she made cropped bangs and ultra-high spiked heels popular.
The sexual temperature of the 1990s is about the same as the 1950s because of the AIDS scare and Newt-conservatism. Betty makes sex seem fun again and not so political. She's the best role model a girl can have because there's a Betty to suit everyone's needs: a bondage Betty, jungleland/wild Betty, and girl-next-door Betty.
She seemed vulnerable and available but always in control. She chose a career over marriage. She was educated and friendly. She was never ashamed of her pin-up days. She influenced pop culture with a charming smile. She captured everyone's heart and imagination. I can only hope to grow up just like her.
For internet links on this subject please check out these sites:
---
"I Was a Teenage Betty" copyright 1995 by Bonnie J. Burton. All rights reserved.
If you received this article from someone else, you should know that it originated at Silly Little Tomte Publications, an online publishing enterprise. To learn more about it, crank up your browser and point it to http://pobox.com/slt/. Have a nice visit.

Bonnie J. Burton is a writer, VJ, hacker, and aspires one day to flash David Letterman.