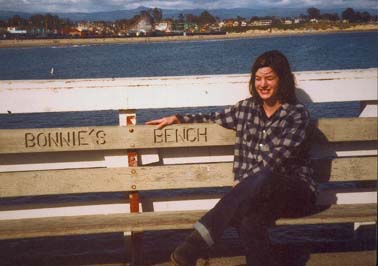 2003 Bonnie Blog Archive
Jan. - my resolutions for 2003, FlyGuy, Evil Squirrels and weird fungus, Tree of Life tattoo ideas, Grow Your Own t-shirts, Put the "fun" back in "fungi," DIY Pineapple Plant, Sock dogs, blah, whew
Feb. - I'm a Bizarre pin-up model, gone to the ocean, vote for me!, Best Movies Ever, Joe Millionaire Never Ends, Things I Wish I Knew, My Big Fat Greek Fan
March - Stuff I've Been Doing Instead of Updating This Blog, hmmmmm....., Hindsight is 20-20... with Xray Vision and Shooting Lasers, Change is a Good Thing, Definition of True Love, Dread Head, In Search of Good Coffee, When's the "Everything's Back to Normal" BBQ?, What I Did Today
April - Still a kid, Movie Fest, Back from Seattle, Things I've Recently Realized, Skills a plenty!
May-June - No entries -- was unplugged while moving back to San Fran.
July - Where Have I Been?, Happy Birthday to Me
August - pretending to be a ghost. no entries. spooky indeed.
Sept. - Return of the Bon, The movie in my head, Quit throwing rice, Quote of the day, Love advice from amazon.com, A random list of movies I still need to see
Oct. - LA Woman, Life Backwards, Project Greenlight on Life, Your cat loves me more, Why margaret cho is my hero, Bloggers' advice, Movin' on up
Nov. - Are we there yet?, Demented and sad, but social..., Coach Holt and a few life goals, Pass the popcorn, My Solitary Writer's Dream
Dec. - Xmas cards, George Lucas' shoes and disco dancin', Reading people
---
Return to current blog