Never Threaten To Eat Your Co-Workers: Best of Blogs
My book is an anthology featuring some of the best blog writing on the Web today from my fellow bloggers. Along with my co-editor Alan Graham and of course added inspiration from long-time collaborator/illustrator John Burton, I spent a year reading through hundreds of blogs to get some great stories to entertain the masses. it has something for everyone: bizarre adventures in retail, child star memories, down and dirty journalistic tales of war and the kind of stories that make you laugh so hard milk comes out your nose!

This book gives blog addicts like yourself the power to walk in the shoes of a TV star, international journalist, criminal court lawyer, video sales clerk and a busy mom, among others. MTV's The Real World's cast member Neil Forrester gives new meaning to the phrase "Bite your tongue." Star Trek: The Next Generation actor Wil Wheaton gives his take on the Hollywood system and fleeting stardom. Web designer Heather B. Hamilton finds herself in the unemployment line after publishing work stories in her blog, Dooce.com. Humorist Choire Sicha gives advice on broken hearts and timeshares. Illustrator Mark Frauenfelder throws out his cell phone and uproots his family from Los Angeles to the sandy beaches of Rarotonga. Plus tales of creepy video store customers, online love lies, Iraqi politics, office pranks gone wrong, jury duty, a childhood meeting with Darth Vader and so much more.

More about this book:
Never Threaten To Eat Your Co-Workers on Grrl.com
Official Best of Blogs site

---

Books by Kathy Acker:
More about Kathy Acker:


Salon.com: Audio of "President Bush"
Interview with Kathy Acker
---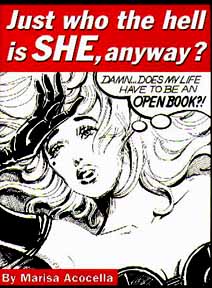 Books by Marisa Acocella:
More about Marisa Acocella:
My review of SHE
---
Angry Women - RE/Search #13
Find out what makes performance artists such as Diamanda Galas, Annie Sprinkle and Karen Finley tick and ticked off.

Angry Women in Rock, Vol. I - Juno Publications
"Thirteen female musicians and producers, ranging in experience from the established to those of the young underground discuss their views on politics, sexuality, creativity, violence, authority, feminism, corruption and exploitation in the music industry, and many other topics."

Angry Women in Rock, Vol. 2 - Juno Publications

---

Books by Sandra Bernhard:
More about Sandra Bernhard:
Reviews of Confessions of a Pretty Lady and Love, Love and Love
---

Books by Kristen Brennan:
b*girls
b*girls isn't a normal novel about typical high school girls. Author Kristen Brennan tells "the heart-touching story of two best friends who secretly hate each other's guts." Imagine the movie Heathers meets the dark side of The Babysitter's Club, and you've got the main aura of Dina and her hyperactive pals.
More about Kristen Brennan:
Kristen Brennan's bio

---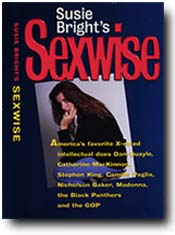 Books by Susie Bright:

More about Susie Bright:


Salon.com: Audio of "Full Exposure"
Review of Sexwise

---

Books by Dianne Brill:
Boobs, Boys and High Heels
Being a girl is the best thing in the world. Take it from infamous socialite Dianne Brill! She's done it all: model, fashion designer, author and party girl. Read her tips on how to flirt, dress and be happy with who you are!
---

Books by Julia Cameron:
The Artist's Way: A Spiritual Path to Higher Creativity
If you've ever had writer's block, or just felt like an uncreative dolt, than you should read Julia Cameron's guidebook on reclaiming your Muse. The Artist's Way is one of the best books you can ever read to get you motivated to write, paint, play music, sculpt, dance or do whatever other creative talent that is lurking inside yourself right now. Some of the text is a tad New Agey, but if you stick to writing three pages every morning and try some of the exercises in the book, you might find yourself oozing with creative and crafty ideas in no time.
The Vein of Gold : A Journey to Your Creative Heart
While Artist's Way seems to center around the needs of writers, Vein of Gold seems to be more for artists. But both books are amazing in how they can literally get you off your butt, and on to doing something creative and inspiring.
---

Books by Lisa Carver:
Dancing Queen
Zine editor Lisa Carver lets us peek into her crazy life with essays about hairdressers, K-Mart and Lawrence Welk!
More about Lisa Carver:
Rollerderby official site
Read the The Lisa Files
Interview with Lisa on Monsterbit.com

---

Books by Exene Cervenka:
More about Exene Cervenka:


Salon.com: Audio of "Surface to Air Serpents"

---

Books by Carol Clover:
Men, Women and Chainsaws
"The book is about the construction of gender in slasher movies, and it's really interesting. Lots of theory, but amazingly readable. Talks about women's roles in movies such as "Halloween" and "Nightmare on Elm Street." -- Kim McCleskey
---

Books by Susan Campo:
---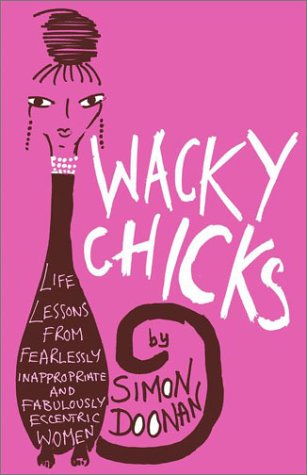 Books by Simon Doonan:
---

Books by Mary Gaitskill:


Interview with Mary Gaitskill
---

Books by Lynn Harris:
Breakup Girl to the Rescue! :
A Superhero's Guide to Love, and Lack Thereof
"Not going through a breakup? Not a girl? Not a problem! Breakup Girl -- and this book -- will help everyone with any concern about love that requires a superhero's intervention. It's a fun read no matter where you are, or with whom. None of that Men are Pigs, Women are Nuts-type relationship advice here ... it's all based on BG's belief that we can all get along. (Maybe, in certain combinations, for only three months at a time, but still.)"
---

Hey, Day!:
Hey, Day! - by Super Clea and Keva Marie
Okay so you're bored. Now what? Check out Keva and Clea's book to get some ideas on turning oh-hums into a-has! These ultra-hip chicks used to run Foxy magazine, but now they're just having fun on their own. Read about George (their dog), guitar chords to learn and stickers to make. Their book, which really looks like a cool bound zine) gives you pointers of fun stuff to do every day of the year - from funky crafts to things to ponder.
More about Hey, Day:
Check out the official Hey Day Girls site
---

Books by Cynthia Heimel:

More about Cynthia Heimel:
Interview with Cynthia Heimel
---

Books by Tama Janowitz:
---

Books by Pagan Kennedy:

More about Pagan Kennedy:


Salon.com: Audio of "The Bald Spot"
Pagan's official Web site

---

Books by La Loca:
Adventures on the Isle of Adolescence
She is my goddess and I will gladly give her my soul to teach me how to write poems like her tales of skater boys, old movie theaters and dysfunctional family picnics.

---

Books by Blake Nelson
Girl
Follow Portland teenage girl, Andrea Marr as she struggles to find love, solace in the punk music scene and an identity to call her own. If "My So-Called Life" was still on, Andrea would most likely be a character.

---
Rock She Wrote
Rock She Wrote - edited by Evelyn McDonnell and Ann Powers
Read about women who took the music journlaism world by storm. A collection of over 60 pieces from such heroines as Patti Smith, Mary Gaitskill, Ellen Willis and more. Check out Kim Gordon's (Sonic Youth) diatribe of touring with her essay, "Boys Are Smelly."
More about Rock She Wrote:
An article about the authors, Evelyn McDonnell and Ann Powers
---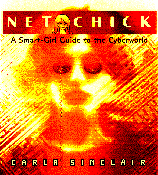 Books by Carla Sinclair
More about Carla Sinclair:
A Cyberbunny's FAQ by Carla Sinclair
Interview with Carla
Net Chick review
Signal to Noise review

---

Books by Darcey Steinke
Suicide Blonde
Step into the platforms of this doomed girlfriend who secretly follows her estranged & suicidal boyfriend into a world of drugs and prostitution.
---

Books by Cameron Tuttle
The Bad Girls' Guide to Open Road
Any book that shows you how to get out of a speeding ticket without crying and 14 ways to open a bottle on your car can't be bad. The Bad Girls' Guide to Open Road also gives you practical info on dealing with overheated engines and flat tires without making you feel like a wuss. Plus it has a Thelma and Louise feel to it that only us road goddesses can appreciate.

The Bad Girl's Guide to Getting What You Want
You must have this book. Seriously. Find out how to land the perfect pad, find a fab job, score free drinks (if you're into that bar scene) and plenty of advice on boys, kissing and, well, everything in between. Discover what you really mean when you say you want a better boyfriend. You might just need a therapist and a puppy instead.
The Bad Girl's Guide to the Party Life
This book cover is silver glitter. Heck, even if you don't open the book it's worth it just to wave in front of a bright light! Discover how to throw just about any kind of shindig whether it be a Rosemary's Baby Shower, a Marriage-Ender Bender or a Self-pity Party! Plus things to do with lemon wedges! And tips on how to crash a party!
More about Cameron Tuttle:
Bad Girl Swirl -- Cameron's merchandising empire with forums!

---

Typical Girls
Typical Girls: New Stories by Smart Women - edited by Susan Corrigan
This obviously isn't your typical book of short stories by hip women. Typical Girls has short stories written by Guinevere Turner (actress in Go Fish), Poppy Z. Brite (the goth girl's Anne Rice), and Kristin Hirsh (former Throwing Muses singer). So get ready for stories with a rock-n-roll feminist touch.
---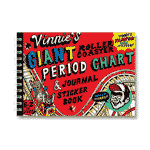 Books by Vinnie
Vinnie's Giant Roller Coaster Period Chart & Journal Sticker Book
I've never personally tracked "my time of the month," but some women really like to do this. Perhaps it's a good way to document cases of PMS or to plan pool parties, but I suppose I never had a reason to pay attention to my flow. But now that Vinnie's Giant Roller Coaster Period Chart and Journal Sticker Book has hit the shelves (thanks to the cool kids at Chronicle Books) I may have to give my menstrual cycle its long-overdue appreciation. I've never been so proud to be a girl!

More about Vinnie:
Know Your Flow -
Get more info about the book plus buy cool tampon cases and T-shirts!
---

Books by Rebecca Wells
Little Altars Everywhere
As the prequel to Divine Secrets, this book gives you some background on the Walker family. Get ready for an emotional rollercoaster.
Divine Secrets of the Ya-Ya Sisterhood
After reading this book, you'll wish you kept a scrapbook about your adventures and tragedies involving childhood gal pals. Plus you may even want to sit down and chat with your mom about HER childhood. This is one book I not only had fun reading, but I plan to give as gifts to all my girlfriends.

More about Rebecca Wells:
Interview with Rebecca Wells
---

YELL-Oh Girls!
YELL-Oh Girls!: Emerging Voices Explore Culture, Identity, and Growing Up Asian American - edited by Vickie Nam
Growing up as an Asian-American girl isn't easy. Vickie Nam wanted to create an anthology of essays, stories, poems and artwork that was all about what it's like to be an Asian-American young woman these days. And she succeeds with a great read for any girl! The collection includes 80 brief selections by young women writers between 15 and 22 years of age, from all over the country. Some stories are sad and thought-provoking, while others will have you giggling on the floor.
More about YELL-Oh Girls!:
Official YELL-Oh Girls! Web site
An interview with editor Vickie Nam

---
Zines, Vol. I - RE/Search
"In the past two decades a quiet revolution has gained force: over 50,00 "zines" (independent, not-for-profit self-publications) have emerged and spread - mostly through the mail, with little publicity. Flaunting off-beat interests, extreme personal revelations and social activism, zines directly counter the pseudo-communication and glossy lies of the mainstream media monoply. These interviews capture all the excited associated with uncensored freedom of expression, while offering insight, inspiration and delight."

Zines, Vol. II - RE/Search

More about Zines!:
Review of Zines!
---