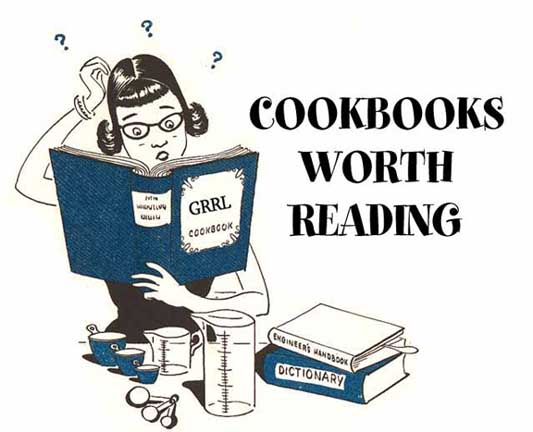 Cookbooks ala Elvis
It's probably not the best idea to eat like Elvis all the time, but nothing beats his recipes for peanut butter and banana sandwiches or fried okra. Elvis sure loved his fried foods. Learn how to make Southern cuisine and mouth-watering desserts fit for dinner at your own Graceland, but don't over do it. After all, Elvis didn't end up a skinny-minny from eating all that fried chicken cooked in pancake batter.
---

Cookbooks by Jamie Oliver:
Meet a cute Brit who makes cooking gourmet meals look easy. Made famous by his TV cookimg series "The Naked Chef" (not what you think) and "Pukka Tukka," Jamie has an amazing talent for getting non-chefy kids like us excited about cooking. If you can't catch his shows on the Food Network, then try reading one of his books and make yummy meals such as his Midnight Pan-Cooked Breakfast using bacon, mushrooms, tomatoes, sausages, and eggs or try his Shrimp and Peas Risotto with basil and mint. He's a big fan of growing your own herbs and trying new things, but not stressing over difficult recipes or cooking methods. After all, Jaime says, food is all about "passing the potatoes around the table, ripping up some bread, licking my fingers, getting tipsy, and enjoying the company of good friends and family." I couldn't have said it better myself.
More about Jamie Oliver:
Jamie's Food Network bio
The Official Naked Chef site
---

Cookbooks by Martha Stewart:
Let's face it. You can't have a cookbook section and NOT list Martha Stewart. I know she's one of those celebrities you either adore or fear, but I like that mix in a chef. Besides, she knows her stuff. She's been catering for years. She know what does and doesn't work in the kitchen. And the woman has a mission - to give us all great ideas in cooking, decorating, gardening and organizing our junk. Here's a short selection of books you should have in your collection, including her extra-weird Halloween book. And I highly suggest subscribing to her magazine, Martha Stewart Living, for monthly recipes and ideas. You go Martha.
More about Martha Stewart:
The Official Martha Stewart site
Martha Stewart - Just Desserts: The Unauthorized Biography
---

Street Food
If you're a big fan of munching on pizza by the slice, soft pretzels and hot dogs smothered in sauerkraut bought from corner vending stands, then you're in for a treat with the cookbook Street Food. This cookbook takes you all over the world to show you what people are eating on the run. From hush puppies, corn dogs and cheeseburgers in the States to Chicken in Banana Leaves, Tortilla Wraps and Jerk Pork from the Latin South and the Caribbean. There are too many tasty recipes to list here, but some highlights include: Scottish Fish and Chips, Greek Tiropitakia (fried cheese pastries), Turkish Lamb Pies, Iranian Roasted Beetroot, Tandoori Chicken, Philippines Pork Spring Rolls, Burmese Coconut Ice Cream, Hokey Pokey (Scottish-Italian honeycomb toffee ice-cream) and Lebanese Souvlaki. The book not only has stomach-growling recipes from across the globe, but also features beautiful photographs of the countries and its people eating as they walk through busy city streets.
---

The Working Stiff Cookbook
When you get home from work, the last thing you want to do is spend a lot of time in the kitchen. With The Working Stiff Cookbook you can still cook a gourmet-style dinner, without all the hard work. This cookbook is probably the one I use the most in the kitchen. The recipes are embarrassingly simple, and you don't have to go to a specialty store to get any of the ingredients. Before you know it you'll be whipping up Thai-Style Flounder with Coconut Rice and Chicken Curry in a Hurry!
---