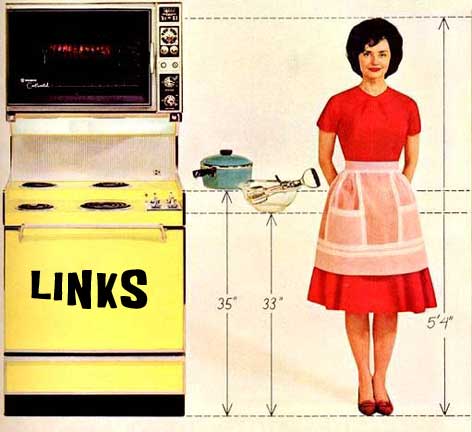 ---

Learn to cook meals like a pro with tips from Out of the Frying Pan. Read great advice on how to clean old grease stains off the bottoms of your pans, or try your hand at some of the scrumptous recipes such as Beer-Butt Chicken and Coconut Rice. Check this site often for tasty recipes, valuble cooking tips and plenty of personality.
---
Bitchin Kitchen
When I'm in a quandary over what to cook, or how to plan a dinner party, I go here first. This site has oodles of yummy recipes, plus tips and tricks on how to serve an entire room full of hungry guests. Some of the best recipes I'm partial to are the No Bake Cookies and the Tofu Teriyaki Bites.
---
Loobylu Celebrity Chef
Need to whip up some scrumptous dip before the gang arrives? Want to make some mysterious mac and cheese using chocolate syrup and sprinkles? Let Loobylu and her pals share their secret and yummy recipes with you! My favorite section is the "3 Meals as Easy as ABC" and "Dr Beard's Chicken and Lychee Recipe."
---
The Sushi Guide
Why should you pay mucho dinero for a platter of sushi, when you can follow the directions on this site to make your own? The Sushi Guide explains everything from ingredients to tricks of the trade. Learn how to fillet a fish and cook sushi rice. Soon you'll be making homemade maki and nigiri just like a pro chef.
---
Top Secret Recipes
Starving for Mrs. Fields chocolate chip cookies and Taco Bell Mexican pizzas but don't have a dime? Make your own versions of these tasty morsels with the secret recipes the restaurants use. Fry up an In-N-Out Double-Double hamburger, and wash it down with homemade Snapple iced tea.
---
All Recipes
Looking for the Antojitos Minis recipe so you can make spicy appetizers for your next wingding? Haven't got a clue on how to cook a live lobster? Making an all-vegan feast for the holidays but you don't have a veggie cookbook? Well, thank your lucky stars that All Recipes has you covered. On this mega-site, you'll find not only recipes, but how-to articles, recipe newsletters, Q&A sections and so much more.
---
Epicurious
If your a huge fan, like I am, of the magazines Bon Appetit and Gourmet, you'll probably spend all your wakings hours on Epicurious looking up fancy-schmancy recipes, reading chef profiles and editors' menu ideas. Not only does this site have some fairly exotic recipes, you can also find tried and true basic recipes for comfort food such as garlic mashed potatoes or jelly bowl bookies!
---
Kraft: What's In Your Kitchen?
Kraft wants to make sure you're not starving. Just because you only have an egg, a lime and some peanut butter left in your fridge doesn't mean you can't make a feast. List the items in your icebox, and Kraft's cool little tool will show you recipes to make scrumptious vittles.
---
Suburban Cuisine
When I say the word "fondue" do you drool? Do you have a weakness for Velveeta? Does your ideal dinner menu consist of Mock Chicken Sour Cream Enchiladas and Fanciful Fruit Pizza? Then you need to visit Suburban Cuisine for retro recipes to these dishes direct from the Knight family cookbook!
---
Meals Men Like
If the quickest way to a man's heart is through his stomach, then this site will surely be helpful in securing a Valentine for next year. Meals Men Like has recipes for artery-hardening dishes such as Frito Pie, Hawaiian Meatballs and Cherry Dream Cake.
---
Gallery of Regrettable Food
Memories of school cafeteria food may come flooding back after you visit the Gallery of Regrettable Food. Try to stomach the photos of the Salmon Surprise and the Macaroni Meatloaf Bar. If you're planning a dinner party of your own and want to drive them away at the end of the night, try serving unusual entrees such as South-of-the-Border Cheesy Meatloaf. Either way, this is an entertaining site for anyone who was told they had to eat everything on their plate before they got dessert.
---
Retro Recipes
Anyone who has eaten my infamous pancake fried chicken, or my Jell-O Rainbow cake, knows that I love cooking from vintage cooking books. With all this healthy stuff on the market, sometimes you just need to indulge in a meal fit for Elvis. That's why I love this site. Not only are there a few recipes here for heart-attack helpers like Mozzarella Eggs and Deep-Dish Hamburger Pie, the site features images of the actual photo recipe cards! My favorite section is the Creepy Cakes. Oh how I long to bake the Princess Party Cake!
---