John Waters' Films with Mary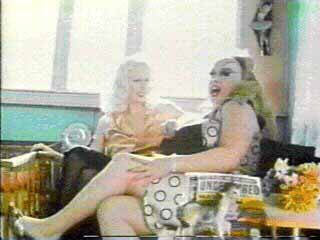 Mary and Divine in Pink Flamingos
Any girl who can steal the scene away from someone like Divine deserves some kind of award. That's what I thought when I first saw her as Cotton in Pink Flamingos. She has this way of making ANYTHING look glamorous, even feeding hard-boiled eggs to an overweight woman sitting in a playpen.
According to the Dreamland biography on her, Mary can be seen in every single John Waters movie.



Sometimes she's a key player, as in Pink Flamingos or Desperate Living; other times she's lost in the scene as an extra, as in Hairspray and Serial Mom.
Regardless, she's a movie starlet in my book and a dead ringer for a cuter Jean Harlow to boot!
Filmography

Hag In A Black Leather Jacket - 1964 (Bodie green dancer)
Roman Candles - 1966 (girl attacked by an electric fan)
Eat Your Makeup - 1967 (Kidnapped model)
Mondo Trasho - 1969 (The blonde bombshell/fashion fanatic)
The Diane Linkletter Story - 1969 (Mrs. Linkletter)
Multiple Maniacs - 1970 (David's mistress, Bonnie)
Pink Flamingos - 1972 (Cotton)
Female Trouble - 1974 (Donna Dasher)
Desperate Living - 1977 (Princess Coo-Coo)
Polyester - 1981 (Nun in home for unwed mothers)
Hairspray - 1988 (Hairhopper mom in giant red wig)
Cry-Baby - 1990 (Picnic Mother)
Serial Mom - 1994 (A book buyer asking for it to be signed to "A future Serial Mom")
Pecker - 1998 (Homophobic lady)
Divine Trash - 1998 (Herself as the interviewee)
Cecil B. Demented - 2000 (a protester)