GRRL #7 - Lucha Libre Wrestling issue
---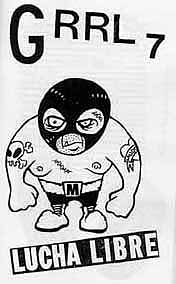 This time, GRRL pays tribute to weird stuff mostly about Mexican wrestling, otherwise known as Lucha Libre.
Here's what Giant Robot had to say about this issue:


"In the wrestling issue, there's an interview with 
an Incredibly Strange Wrestler, the maker of Sonambulo,
an Andre the Giant Has a Posse dispatch and some great
wrestling stories. One writer practiced the Camel
Clutch on his girlfriend. And then there's Andy Kaufman."


ISSUE #7

Lucha Libre/Wrestling:

So You Wanna Be a Professional Wrestler?


A Social and Psychological Explanation of Andre the Giant Has a Posse


Bonding Over King Kong Bundy


In the Ring with Andy Kaufman


Grrl Love Tor


Incredibly Strange Wrestling photo essay


Rasslin' the Web


Hell to Pay with Counte Dante


Tell Somambulo Your Dreams


Lucha Libre Lingo


The History of Mexican Wrestling


Wrestle for the Popcorn


The Greatest Show on Earth


Superbarrio Roams Mexico City


Testimonial of an Unredeemed Pro-Wrestling Addict


The Camel Clutch

If you'd like to buy this issue of Grrl please email me for details.
---


Back to zine index