GRRL #8 - Alice in Wonderland issue
---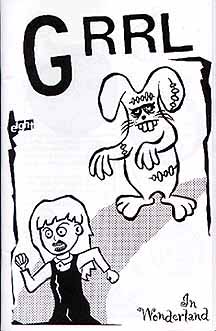 This time, GRRL researches every aspect, serious and silly, of Alice in Wonderland. Get the dirt on Lewis Carroll, the origins of the Mad Hatter, tea party tips and so much more.

ISSUE #8

Alice in Wonderland:

A Rabbit Hole with a View


Wonderland poem


Magic mushrooms


Sweet Dreams


Go Ahead and Ask: Alice FAQ


Mad as a Hatter


American McGee Alice Game


The Misadventures of Alice


Mock Turtle Soup


How Curious


The Quest for Carroll


Hit the Hedgehog


Tea Party Tips


Alice Web reviews


Alice in Stop-Motion Land

If you'd like to buy this issue of Grrl please email me for details.
---


Back to zine index