B R A T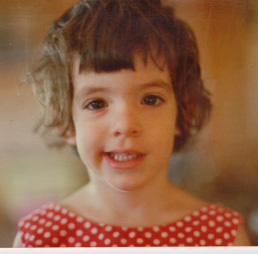 So here I am as a confused wee tot growing up in Western Kansas. I was born in the same hospital as Dennis Hopper, but not the same year...duh. I vaguely remember growing up on a farm in Ford County and going to school in Cottonwood Falls and Dodge City (were I was born).
My dad is a bonafide cowboy. This is the only time I got on a horse. We had plenty of other animals to play with such as cats, dogs, pigs and cows..and my little brother Matt, who now played baseball at Metro State College in Denver.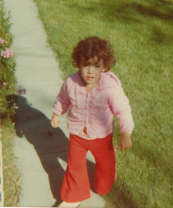 My fashion sense is a lot better than when I was 4, but maybe that's because I dress myself. In fact, I don't think I even own any red pants today. Must have been backlash from growing up in the 1970s.
I have to say I was one stylin disco queen when I was a kid. In first grade, I remember entering a talent show contest. I danced in circles to the song "Disco Baby" and my tights fell down. I guess if I practiced I could have been an excellent stripper. Oh well...I suppose I'm just destined to be a writer. egads!
Here I am in my high school senior portrait in 1990. I looked almost normal here...already phased out of my punker/Goth look so I could sneak my way into college. I don't remember liking high school that much because everyone was so ultra-concerned about fitting in, or in my case standing out. College was so much better because I was working at the university radio station, KUCB and I had a chance to host a music video show in Denver called, Teletunes.
---
Back to FoToS