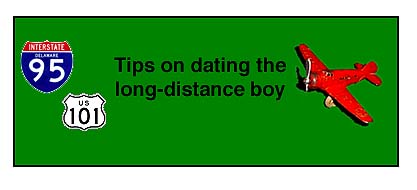 Picture this. You're at a party and you meet this incredible lad. He has a job, likes to travel and doesn't have a prison record. Sound like a perfect match? He is - only one thing. He lives in another state. Or worse yet, another country. So what do you do when you two want to date long distance? Here are a few pointers on how to keep your relationship going strong (hopefully) without having to quit your job to become a flight attendant.
Start saving your dimes. The first thing you'll notice in this relationship is your phone bill. Try to communicate through email and private chat rooms. Or if you're a patient romantic, long letters do the trick. Resist the temptation to send him a care package every week. You don't want to smother him from afar.

Practice phone sex. You might be surprised how well it works when you're both frisky but nowhere near each other. Plus it's one of the better forms of safe sex.

When you do see each other, keep it real. Don't turn every meeting into a vacation. You want to be around each other in normal circumstances or else the relationship will feel more like a getaway.

As with all relationships, make sure you both have a clear understanding of what the rules are. For example, will you allow your long-distance boy to date other people in his zip code, or should he save himself for you?

Also be clear on what you want out of the relationship. You don't have to pick out wedding china in three months, but be sure to tell him if you're into a serious relationship with him or just a drawn-out fling.

Beware of long-distance boys who constantly make plans to see you and then back out at the last minute. If he's not excited to see you, then something's very wrong with the picture. Let him go and move on.

If your boy travels a lot, make sure he doesn't have a girlfriend (or wife!) in every port. This can be a macho goal for some studs, and a nightmare for you.

Don't have unrealistic expectations for a relationship just because it's long-distance. As with any normal relationship, he'll have a life to live and people to hang out with. He probably won't be waiting by the phone every night for you to call.

Be willing to compromise because of the time zone thing. If your long-distance boy is really long-distance, then his life is hours ahead (or behind) yours. Be willing to get up early a couple of times for catch-ups, and don't berate him if he wakes you up occasionally at night.

Invest in a pager or cell phone. If it's really serious, and you don't have pillow time to catch up, you want to know you can reach your man, or he you, whenever the mood strikes. Constant hassle of co-workers, roommates or answering machines can be a drag.

Don't be exclusive. When you're together, spend equal time with friends on group dates as with each other solo. It's called integration. It helps you both feel like you're a part of the other's life, even when you're far away. Besides that, you need to prove to your pals that you don't have an imaginary boyfriend!
All contents copyright © 1998-2006 by Bonnie Burton.
back