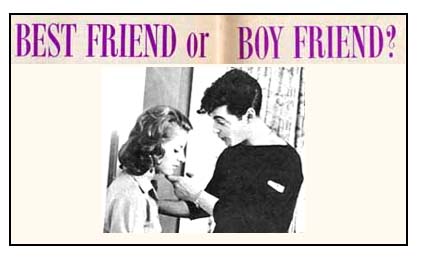 This is probably the hardest kind to date. Usually the boy starts off as your best friend so you already have a basis of trust built up. Then sex is thrown in somewhere along the way. And what comes out is a confused state of misunderstandings, freak-out tantrums and loads of hurt feelings. It's called screwing up the best friend equation because you want something more. You need something more. It's normal to feel that way.
Sometimes, when you're lucky and the timing is right - it works out and you end up finding true love with your best friend. But it may start to suck if he doesn't want to give what you two have any "titles," and he'd rather keep it up in the air instead. These are tips for the girl who doesn't know how to deal with the confusion that goes along with dating a boy who may be a close friend but truly has no idea what he wants.
Make damn sure that you both know what you want from each other before you dive in head first. What may be vague to you, could be sincerely cut-and-dry to him. It's important that both your views of the relationship are crystal clear to each other. This will save you plenty of tears in the future, and may actually help you realize that this isn't such a good idea after all.

If you want to be his future girlfriend, tell him. Otherwise he's gonna think he can treat you like a convenient sex buddy until someone better comes along - and she will.

Don't start acting like his girlfriend if you're really not. This means don't dote on him like a silly puppy. Don't constantly reassure him that he's the best, if he's being a jerk. In other words, don't take his shit. If he's being a schmuck, tell him. If he's being super nice, tell him that too. You're still supposed to be pals, after all.

Be honest. This goes with any real relationship you care about preserving. Lies always come back to haunt you and him. Be honest with yourself too. There's no sense in drowning in your own delusions.

If you're gonna sleep with someone else tell him. And if he does, ask him to tell you. This comes back to the honesty thing, but you also don't want to accept vagueness in this category. With AIDS and other nasty STDs around, you don't want the last reminder of him to be a pesky rash or a death certificate.

Be careful of looking for signs that aren't there. If he says he loves you, it may still just be as a friend and not a romantic level, even if you're having sex. If he says he sees you two as a couple, he may mean anything's possible in the future, and not that he wants you as his girlfriend right now. Never ever assume.

Many of these kinds of boys are the "want their cake and eat it too." So take heed if he already has a few undefined relationships scattered around. He may have a serious girlfriend or a real romantic interest in someone else that you don't know about. If you don't know this, it's gonna make you feel awfully ridiculous when you fess up that you're in love with him.

Do not compare yourself to the other girls he's seeing. It's never worth it. And it'll just peg you as being a jealous, over-dramatic twit.

Don't try to be someone else to win him over. This all may seem like a huge game, but you can't make someone fall in love with you or any alternate persona. If being you isn't good enough, move on with your dignity intact. In the long run, you'll be stronger and happier for it.

If you started out as friends and want to save that aspect even when your romantic intentions hit a brick wall - be patient. In most cases, when someone is rejected on a romantic level or put inside the bubble called "vague relationship," the friendship is thrown into the gutter. If he's a real friend, he'll try his best to quit hurting you. He'll listen. He'll act like a friend. You'll know.

And if he's really being a manipulative asshole, you can always turn to an old-fashioned voodoo doll. Though I personally don't reccomend a heavy dosage of revenge because it's too exhausting to pull off and I have a thing about getting bitch slapped by karma.
All contents copyright © 1998-2006 by Bonnie Burton.
back