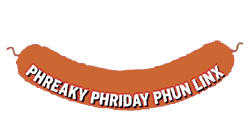 July 17, 1998





The Crime Library
Read about all the greatest killers of all time on The Crime Library. Some of the masters of murder include the Boston Strangler, Sam Sheppard, Eddie Gein and many others. The site also investigates unsolved mysteries such as Jack the Ripper and the Black Dahlia.

Mount Horeb Mustard Museum
Aside from ketchup, mustard is one of the most popular condiments around. Here at the Mount Horeb Mustard Museum, you can read delicious mustard recipes or order specialty brands.


That last thing you want to worry about while eating sushi is if you are the perfect host - to parasites. On this section of the Tokyo Food Page, you'll find some useful information on how to protect yourself against pesky parasites such as liver flukes and nematodes. When in doubt, throw it out.

The Virtual Lizzie Borden House
Lizzie Borden took an axe, and gave her mother forty whacks. And when she saw what she had done, she gave her father forty-one. Walk through the floor plans of the actual house where the murders took place.

Suihitsu Sake
At your next cocktail party take a chance and serve sake instead of martinis. On the Suihitsu Sake site you'll not only learn the definition of sake but also learn which foods taste best with the different flavors of sake. Also be sure to see the easy-to-understand steps of making this time-honored drink.

The Art of the Motorcycle
Get your motor runnin'. Head out on the highway. On the Art of the Motorcycle, you'll see why this is more than just a mode of transportation - it's an artistic icon. At the Guggenheim Museum, you can see how the motorcycle developed as a force to be reckoned with on the mean streets throughout the late 1800s into the present. Some of the more interesting models came from 1930-1944.

Hope Enterprises
When all seems lost and sad, don't give up on hope - Bob Hope, that is. Turn to this site to cheer you up with a joke told by Bob himself. The site also has information on Bob's videos, books and recordings as well as his biography and news of what he's been up to lately.

Barrel of Beanies
Just when you think you've escaped the hype surrounding these silly little animals, you find a site like this. Any Beanie Baby collector will appreciate this site selling every character from Roary the Lion to Smoochy the Frog.

Nude Man Carrot
No, don't get any ideas about this site. It's not porn. It's just a deformed carrot in really good lighting. Sure there's a weird story that goes along with the photos. But what did you expect with a site name like Nude Man Carrot?