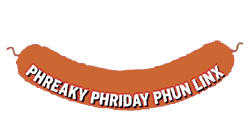 August 7, 1998





New York Underground
Ever wonder what lurks in the sewers of New York City? Now is your chance to see, first hand, what it looks like 800 feet below street level with National Geographic's New York Underground site. Take a tour of the city's power and cable lines, water pipes, steam tunnels, gas lines, and of course, sewage tunnels. Take the Myths of the Underground quiz to find out if tunnel workers once found a 10,000-year-old standing forest beneath the Upper West Side which had to be cut down with chainsaws.


Sally wants to stare at you, until you blink. Play an old-fashioned staring game with this weird, green-eyed girl. See who stares the longest, or who gets a headache first from trying. Good luck!

The Bovril Shrine
Ever spread a cow on your breakfast toast? Thanks to Bovril you can have a beef product with every meal. Bovril is a molasses-like condiment used on bread and in soups and hot drinks. Apparently, it's also one of the saltiest things you'll ever taste. It's most popular in England and Ireland, so don't expect your favorite fast food chain to offer it with fries quite yet.

The Bride Wore . . .
If you're a disgruntled bridesmaid, perhaps you should take a look at this site. It's a collection of photos a bride-to-be found when she was looking for her own wedding dress inspiration. Two of the best sections of the site are "Sleeves Bigger than my Head" and "Flower Abuse."

How to do the Charleston
Kick up your heels just like your grandparents did by learning how to do the Charleston. This site features an illustrated, step-by-step guide on how to do the dance steps as if you were born dancing.

World's Largest Roadside Attractions
Don't call yourself a real tourist unless you've visited the world's largest catsup bottle in Collinsville, Ill. Or perhaps you'd rather gaze up at the world's largest nickel in Sudbury, Ontario. The site has an alphabetical list of large objects around the world that you can visit with your family.

Roadie.net
It's not easy being a roadie. You may have to load and unload heavy equipment, help with the lighting and rigging, keep tabs on the musicians, drive the tour bus, etc. Read what it's like to be a roadie from the professionals, or browse through some of the photos taken by roadies on tour.