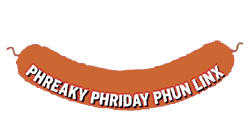 August 14, 1998





Discovery Online: Hackers' Hall of Fame
Kevin Mitnick isn't the only fella who can phone phreak. On Discovery Online: Hackers' Hall of Fame, you'll meet hackers like John Draper, aka Cap'n Crunch, who discovered how to make free phone calls by using a prize from a cereal box. Or learn about Kevin Poulsen, aka Dark Dante, who broke into computers to get the names of undercover businesses operated by the FBI.

Cat Scan
Do you have a cat, a scanner and too much free time? Cat Scans is literally a site full of scans of cats. Hopefully, none of these pets were injured or emotionally scarred during the process of scanning. Most of them look like they're having fun licking the glass. Initially, the site was a contest of cat scans, but you can still see all the entries online. Meow.


Ever doodle on a bunch of Post-It notes? So does Mark Sinclair, and he makes little animated movies out of them. Watch the unlucky main character fall into a fishing pond, blow bubbles and pop his eyeglasses off his head. There's a new animation every week.

The Adventures of Dotto & Lolly
Dotto and Lolly aren't your typical comic book characters. Sure, they rely on sight gags and have cartoonish faces, but they're really in-depth. Okay, maybe not. But these two can only be found online. And that's not too terribly typical!

WebDweller
Ever wanted to know what an average face looks like? Now's your chance on WebDweller. This site collects thousands of images of people's faces from all over the globe and then morphs them into one face. So far it's not too ugly, for a human.

Deluxe TrailerPark
Do you like watching movie trailers but don't want to be sitting in a stuffy, popcorn-stinking room with a bunch of strangers? Now you can watch the latest movie trailers every week, on the Deluxe TrailerPark site.

Your Weight on other Worlds
You might be a skinny minnie on Earth, but take a trip to Jupiter and you'll probably have a few self-image problems. Type in your weight, and find out if your ideal weight can only be attained if you live on Mars.