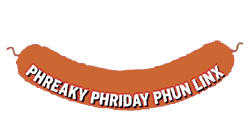 August 21, 1998





ColorMix
Don't settle for a white or black background on your Web site if you can go pastel green or muted lavender. With ColorMix you can make over 10 million browser-safe combinations. The site shows you the hex values, so you can plug them right into your code.

All Creatures Great and Cheap
You know Homer Simpson, Marge, Bart, Maggie and Lisa - but how well do you know their pets? This site pays tribute to the pets from the cartoon The Simpsons. Get the dirty on Snowball I and II, Santa's Little Helper, and obscure pets like Mojo the Monkey. Remember when Bart won a pet elephant from a radio show? Or when Homer bought Lisa a pony because she stopped loving him? Surprisingly enough, the kids never had a goldfish or a hamster.

The Love Calculator
Are you in love but not sure if your relationship has a chance of working out? Lay your fears to rest with the Love Calculator. All you need to do is plug in your name and your beloved's, and the calculator determines whether Cupid is working with or against you.


It's boring to be the same person day in and day out. Wouldn't it be fun to be a dentist or a TV producer for the Ricki Lake show? Print out authentic-looking business cards from McDonald's, Kmart, High Times magazine, Weight Watchers and others. Soon you'll be masquerading as a legitimate professional with your stylish new business cards. If anything, you can try to pick up people in bars with your McDonald's cards.

Death Clock
The Death Clock is ticking, so you better find out how many seconds you have left to live. Enter in your birthdate and the clock gives you the exact day when you should be resting in your deathbed. Keep the Death Clock running on your computer so you can see the seconds of your life fly by. There's also a special section where you can see how much longer the Spice Girls will be on Earth. Send a friend a personal message of how much longer they have to live with a customized postcard. Time is running out.

Superfriends Archive
When you've got pals like Wonder Woman and Superman, the excitement never ends. Learn all about your favorite superheroes and villains of this popular, retro cartoon series. Even the Wondertwins and Gleek the blue monkey are included.

The Flying Elvi
Nothing beats an Elvis impersonator who can skydive. The Flying Elvi are a skydiving team consisting of ten Elvis impersonators. You might have seen them in the movie Honeymoon in Vegas. Hire them for your next shindig. They promise to sign autographs! Elvis has left the plane.