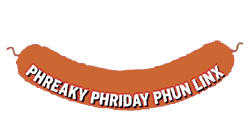 Oct. 9, 1998





Goth Talk
Meet Azrael Abyss and Circy Nightshade, hosts of Goth Talk. Actually, it's a skit on Saturday Night Live. But if you ever were Goth or knew someone in the Goth scene, you'd see how close to reality this skit really comes. Azrael, like most Goth kids, works at a mundane job at Cinnabons and has an annoying jock for an older brother who always seems to bust in on his cable access show. The best quote from the skit so far is, "If I was born in the 17th century, I wouldn't have to Turtle Wax the van." If you want to actually see video clips of the skit, go to the official Saturday Night Live site, in the Screening Room section.


Cheese Wars is one of those sites that you don't know if you should praise for being creative, or if you should condemn for being too weird. The 3D graphics of the cheese characters are impressive. You might even catch yourself interested in the soap opera storyline.

Evidence: The True Witness
If you fancy yourself an amateur detective, you'll appreciate this site. Evidence: The True Witness has extensive information on aspects of forensic science. Learn about DNA and other topics, then play a game where you have to solve a crime. Don't be so quick to blame the butler.

Furby
Here's one of those new toys that everyone will just have to buy their kids for the holiday season! It looks like a Gremlin rip-off, but really it's so much more than that. Furby talks, but only in a langauge all his own. Chat with Furby on this site, or send your pals postcards of the cute little critter.

Blackadder: A Site of Historic Incompetence
Before there was Mr. Bean, there was the Blackadder. Only a comedic genius like Rowan Atkinson could make a character from five different time periods funny. Take the quiz to see if you're a true fan of this British comedy, or go directly to the downloads section and see for yourself why this character has reached television cult status.

Slinky Around the World
Some people love their Slinkies a little too much. Case in point, Dave Osgood. His site is a photo album containing snapshots of himself with his Slinky on vacation.