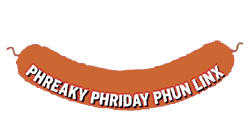 Oct. 23, 1998





Lonster's Virtual Manager
Need something profound to say at your next office meeting? Want to sound like a real executive? Click on Lonster's Virtual Manager for handy quotes you can use in any corporate setting. One of the best sayings is, "The reason our division cannot modify the remaining focus groups is simply because you clarified consensus."


Want to pretend you're a sleazy cupid and make a cool $10,000? All you have to do is find a pretty girl who is between the ages of 24 and 34, 5 feet 4 inches to 6 feet tall, and 110 to 135 lbs., and introduce her to a desperate bachelor named Rod Barnett. If he ends up marrying her, he'll pay you $10,000. On this site, Rod tells you what he's looking for in his soul mate, including the fact that he's never been attracted to a woman who was a size 10. It's nice that he writes, "I have never had a problem getting a date" in all caps. Oh yeah, he's a winner.

The Caddyshack Page
Kill all the golfers? No, the gophers! Caddyshack is one of those flicks that you can't help but watch at least once a month. With one of Billy Murray's finest performances to date, Caddyshack embodies what golf should really be about - slapstick violence. Listen to sounds from the movies, or play the gopher slide puzzle.

7-11
This isn't a joke. If you go to 7-11 half as much as I do, this site will come in darn handy. Look up new products in the press releases area, or learn how you can get a job at a store near you. They have a new Slurpee cup that's divided in half so you can get two flavors without mixing them. Wow.