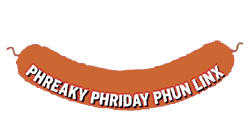 Oct. 30, 1998





Ynot Cards
Send a cool animated card for free to friends you haven't heard from in a while. The site has a myriad of greeting themes to chose from, including off the wall, slapstick, over-the-hill birthdays and staff picks.

NuWorld
Whatever happened to the fellow who sang the '80s hit song Cars? On NuWorld, you can get all the dirt on new-wave icon Gary Numan. Read about his new autobiography, Praying to the Aliens, or listen to tracks from his latest studio album.


Must musicians suffer while composing beautiful melodies? If you play the piano for long periods of time, you could run the risk of injuring your fingers and wrists. This site explains the dangers of piano playing and how to minimize your pain while tickling the ivories.

The Ralph Macchio Fan Page
Where the heck is Ralph Macchio these days? He had such great promise with hit movies like the Outsiders and Crossroads. Heck, he had it made with all those Karate Kid movies. And then he just disappeared. He made a brief appearance as an innocent kid on trial in My Cousin Vinnie, and then he vanished again. Visit this site to see what happened to him.

Gothic Gardening
Mary, Mary, quite contrary, what does your gothic garden grow? Just because Goths wear all black doesn't mean they can't have green thumbs too. Read all about how to grow and care for dark plants such as evening primrose, moonflowers and night gladiolus. The best part of this site is a section called Gardening for Bats, which gives you tips on which plants to grow to attract these creatures of the night.

Bonanza Fan Page
Saddle up and head on over to the Bonanza Fan Page to read about the Cartwright family. Did you know that the actor who played Hoss died of a blood clot before the show went into its final season? Or that the actor who played the eldest son, Adam, ended up being a more popular character on the TV drama Trapper John, M.D.?

Ventures
Exciting things happen to Patrick Combs. He once deposited a junk mail check for $95,035.35 into an ATM, and it actually cashed! He even delivered a baby on the sidewalk on his way to work.