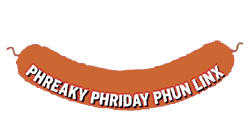 Nov. 6, 1998





Fire Eating and Fire Breathing FAQ


Not one salsa on earth will compare to eating actual fire. The Fire Eating and Fire Breathing FAQ tells you how to perform this trick without burning your lips to a crisp. Remember, don't ever breathe in when you're eating the flames.

1-800-Autopsy
I'm not sure if this is a sick joke or just an unusual company. According to the site, 1-800-Autopsy provides the following services: forensic autopsies, toxicology analysis, organ retrieval, post-mortem DNA analysis, criminal expert witness testimony, and post-traumatic (decomposition) clean-up services. They also have a very unusual online gift catalog complete with a two-headed skeleton.

The Fabulous Ruins of Detroit
Everyone likes to see a big building collapse once in awhile. Now you can see photos of some of the best buildings blowing up in the metropolis of Detroit. Some of the photos are even animated so you can pretend you're there watching the bricks fly. And you won't even have to wear one of those wussy hard hats. Kaboom!

The Great Picture Book of Construction Equipment
So what if this is really a kids' site? Can't grown-ups appreciate a huge forklift now and then? Click to see nice photos and helpful descriptions of construction equipment. Watch movie clips of hydraulic excavators digging in the dirt.

Taxidermy Net
Thinking of starting a new hobbie involving deceased wildlife? Taxidermy is probably your best bet. On this site you'll be able to locate taxidermists in your area as well as stores that specialize in the supplies you'll need to mount that squirrel head over your mantle.

Larry Wilcox.com
Larry Wilcox doesn't just play Ponch's partner on CHiPs, he's also a "soldier, humanitarian, business man, computer pioneer and cowboy." See what makes this actor tick on his official Web site. Chat live with other fans, or browse photos of Larry with his family.