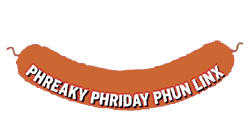 Nov. 13, 1998





Goth Pet of the Week
What makes a pet seem sinister, anyway? According to this site, these animals have a darker side than the average Fido. See photos of people's beloved cats, dogs, reptiles, ferrets and even skunks!

Gavin the Sheep
You don't have to be human to appreciate a good road trip across the United States. Take Gavin for example. He's an inflatable sheep who's played the slots of Vegas, partied with Hugh Hefner and ate countless meals at Denny's. Some sheep have all the luck!

/A> Slow Food


Eating your dinner in one huge gulp may save you time, but you're cheating your tastebuds out of a pleasurable experience. There's culture and heritage behind food that isn't bought from a drive-through window. At Slow Food, you'll learn what you've been missing by eating so much fast food in the name of convenience.

Hotwired Animation Express
Turn your dull computer monitor into your own personal animation festival with the Hotwired Animation Express site. You can watch some of the best animated short films, around including clips from the award-winning Geri's Game.

Furby Autopsy
Sick of those freakish talking dolls that look like Gremlins? Now you can put your twisted hatred to work and dissect a Furby.This is a step-by-step guide on how to perform a Furby autopsy. You might be surprised to see what's inside these little electronic fur balls.

Ransomatic
Want to send a realistic ransom note without having to kidnap anyone? With the Ransomatic, you can pick the paper style and ransom writing styles. Hint: Newspaper clippings pasted on a crumbled bag look best.