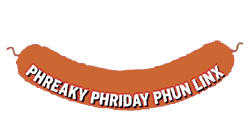 Nov. 27, 1998





Access Manson
Did Charlie Manson get a fair trial? Some people think he's the victim in the notorious Sharon Tate murders. In fact, if you take a look at the site's fan art gallery, you get the impression that some of his supporters regard him as a sort of kindly gentleman. Read trial statements, parole hearings and more. The more fascinating stuff on this site happens to be in the Manson's Music section. I bet you didn't know he had a few albums, did you?

Ashtray Cam
Want to see people smoke, but don't want to have to breathe in those nasty, cancer-filled fumes? Now you can see cigarettes in action with the handy Ashtray Cam. See if you can find the mysterious monkey, Bongo, hidden in the ashes.


Do you make snooping through people's old, personal letters an art form? On Private Art, you'll find a beautiful collection of WWII letters from a soldier to his family. See how one man's life unfolds through a series of letters.

Burt Reynolds Official Site
Even with his marriage in shambles and his toupee askew, Burt Reynolds still has his share of worshipers. Check out this official site for some rather Hemingwayesque portraits of the man we loved so much in Cannonball Run.

On Stagnant Pond
Plastic pink flamingos aren't as tacky as you'd think. Some people think a yard is downright unsightly without them. This site has essays on the culture of these motionless birds, as well as landscaping tips.

Ultimate Fighting Championship
You think you're so tough? You don't know true brawn until you witness the Ultimate Fighting Championship. This sport mixes martial arts with other styles of fighting, so you never really know what's going to happen in a match. Meet the middleweight champion Frank Shamrock, or read interviews with other prize fighters.