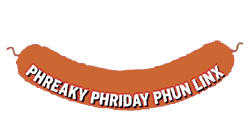 November 1, 1996


How to Make an Elizabethan Corset
Get that barmaid look with a corset you make yourself. Everything you need to make a torturous waist-cincher is on this site. Before you know it, you'll be fitting into clothes you never thought you'd wear again., even if you can't breathe in them.

Strawberry Pop-Tart Blow-Torches
All you need is a few strawberry pop-tarts and a toaster to make an explosive breakfast. Learn the secret technique for transforming a sweet treat into a lethal weapon.

Molly Ringwald Fan Page
She won a bad boy's attention in the Breakfast Club, got to kiss the most popular fella in Sixteen Candles and broke the heart of a misfit in Pretty in Pink. Molly Ringwald was the poster child of the 1980s and made many John Hughes movies the dreams of teenage girls across the country.