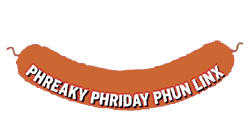 Dec. 4, 1998





UFO Roundup
Was that a green fireball hovering over the highway at 3 a.m. or just your imagination? UFO Roundup has some of the most extensive UFO reports on the Web. Read articles about everything from flying saucers to Bigfoot.

Limbs and Things
Think of Limbs and Things as the Toys R Us for med students and eccentric collectors. Here you can buy lifelike models of knees, arms, stomachs, wrists and other body parts to practice your surgery techniques. You can even get a vial of mock blood to make it look even more realistic. Eeeew.


Aspiring to be a rock star? Before you go on a shopping spree for glam threads perhaps you should learn how to play the guitar. Olga.net is a searchable database of guitar and bass tabs from some of the most popular groups around. Learn to play riffs like Jimi Hendrix, or brush up on your power chords.

James McIntyre: The Cheese Poet
Cheddar, Gouda and Swiss. There is nothing that I miss. More than your moldy kiss. If you think that's bad, try reading some cheesy poems from Canada's worst poet, James McIntyre. No joke. This fella made a career out of scribing goofy odes to his favorite food - cheese.

British Comedy on American TV
What is it about British comedy shows that make us all want to tune in? Here's a site that pays tribute to all that makes us chuckle in our tea. Get information for such cult classics as Are You Being Served, Mr. Bean, The Black Adder, Red Dwarf, Vicar of Dibley, Absolutely Fabulous and more!

Wacky Uses
Did you know that Bounce fabric softener sheets repel mosquitoes and dissolve soap scum from shower doors? Or that Jell-O makes a cool hair dye? Or that Coca-Cola can clean toilet bowls? Find out how to get the most out of products sitting around the house, with the Wacky Uses site.