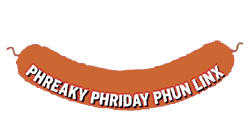 Dec. 18, 1998

Larabie Fonts
Take a break from the usual Geneva font and try something new. On this site you can download weird fonts like Paster of Muppets (a Metallica type style) and Die Nasty (a KISS font complete with band member's heads). There are plenty of bizarre choices to transform any boring document into a typographical treasure.
The Phobia List
If you're petrified of lemons, you might have Acerophobia. And if looking up at the clouds sends chills down your back, you probably suffer from Anablepobia. This phobia list covers everything from fears of staying single to gravity.
Tina the Troubled Teen
Spice up your Web site with Tina the Troubled Teen. This little icon is programmed to say something depressing and dark every day. She's so unhappy.
Sweepstakes Online
Do you think you're pretty lucky? Perhaps you should browse Sweepstakes Online for links to daily and weekly contests. Enter to win music, vacations, flowers, games, computers and cold, hard cash. Good luck!
Dumb Laws
We need laws to keep us all in order so we don't turn into characters from Lord of the Flies. But what about those silly laws passed by our leaders long ago? For example, did you know in Denver it's illegal to mistreat rats? In the same vein, in California it's illegal to set up a mousetrap without a hunting license. In Alberta, Canada, businesses are required to provide rails for tying up horses. Check out this site to see how many laws you're breaking right now.
The Clint Howard Project
It's not easy being the brother of a famous actor and Hollywood director. Clint Howard knows that feeling all too well. As the brother of Ron Howard, Clint has sort of been left in the shadows. But thanks to his hardworking fans, he has a Web site showcasing his talents. See him as the lovable child actor in Gentle Ben, or look at his work in such hit movies as Apollo 13 and Backdraft. Of course, it helps that his brother finds a part for him to play in all his movies.
Ottawa By Night
What do you do if you're a Goth kid who lives in Canada? You visit the Ottawa By Night site is what you do! This is a guide of shops, music venues, bars, clubs and other places to go if you wear all black and live in Ottawa. There's even a section where you can email local Goths and check out their personal Web sites!