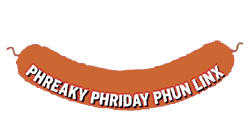 Jan. 8, 1999
Gentle Hints
Do you have a friend or family member that smells bad or talks to much? Well, now you can hint to them about their bad habit, send them a product to help fix it and keep your anonymity all at the same time. Gentle Hints will send your hygeine-challenged pal a bottle of special shampoo if he has dandruff, or an egg timer if he chats too long.
Marshmallow Fluff
Nothing tastes better between two slices of white bread than a generous helping of Marshmallow Fluff and peanut butter. On the official Marshmallow Fluff site, you'll find delicious recipes for frosting, cheesecake, fudge, shakes and of course, the famous fluffernutter sandwiches. The site even has an animation of how to make one of those tasty sandwiches - just in case you can't figure it out on your own.
The Cartoon Bank
Do you like reading those witty cartoons published in the New Yorker magazine? Now you can access your favorites or see new strips on the Cartoon Bank. There are about 5,500 cartoons in the database. You can purchase the cartoons for your publication, or you can buy reprints and originals to give as gifts.
Bogie and Baby
Humphrey Bogart and Lauren Bacall had the kind of romance that sounds like a movie script. They fell in love on the set of To Have and Have Not. She was 19, he was 44. Bogie was already unhappily married, for the third time. He and Lauren fell in love, he was divorced, and then they married right before their second movie together, The Big Sleep. This site does a fantastic job of featuring the movies they shared together. Read about the films' casts and plots, or browse through the vast collection of pictures and sound files.
Natural Sausage Casings FAQ
When some of us are enjoying satisfying breakfast sausage links, how often do we think about the casings? With this rather informative FAQ, you can have all your sausage casings questiosn answered. For example, did you know that a sausage maker is often refered to as a wurstmacher? Or that some modern sausage casings are made from collagen and plastic?
The Fantastic Films of Ray Harryhausen
Ray Harryhausen is a genius - plain and simple. You probably don't recognize his name, but chances are you're familiar with his work. His work in stop-motion animation is legendary in such films as Jason and the Argonauts (remember the skeleton battles?) and Clash of the Titans. This site documents his career in stop-motion animation with an extensive filmography, image gallery and recommended reading list.
Bob Ross
Bob Ross was the kinda of art teacher who made you feel like anyone could and should paint. His Joy of Painting TV show has become sort of a cult classic amongst those of us who actually watched PBS. On this site you can find out where to buy his instructional books and videos. The fan gallery has images of painting by people who use his special method for making "happy little trees."
The Official Rock Paper Scissors Strategy Guide
Sick of losing to your little brother or snooty coworkers at the rock-paper-scissors game? Now you can train to be a gaming mastermind with this handy strategy guide. Brush up on basic strategies, or practice more advanced techniques. Learn how to throw dynamite into the mix as well. There's also a Zen of Paper article everyone needs to read to up their chances of winning.