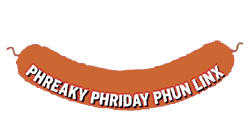 Jan. 15, 1999
Blast Mapper
Ever wanted to blast away an enemy's house without dealing with the jail time? Now you can set off a virtual nuclear blast without the guilt that total destruction of the world might bring. You pick the weapon and location, and Blast Mapper does the rest.
The Hamster Dance
It's funny how the simplest site can make you giggle the most. All this site happens to be is a page full of dancing hamster animations set to a cheerful melody that sounds like a little creature yodeling. You won't be disappointed.
FBI's Freedom of Information Act Reading Room
Do you think most government documents are boring to read? Well, maybe you haven't searched the FBI's Freedom of Information Act Reading Room lately. On this site you'll find the latest unclassified documents on everything from gangster profiles to unusual phenomena. That includes information about UFOs, for you believers out there.
Tyrone Power Home Page
Fans of black and white flicks probably recognize this debonair actor from the 1930s through the 1950s. This site pays tribute to his career in such films as In Old Chicago and The Mark of Zorro. Test your trivia knowledge in the quiz section, or browse the photo gallery of Tyrone looking extra swanky.
Yahoo Oddly Enough News
Sometimes reality is stranger than fiction. Yahoo Oddly Enough News picks out the weirdest headlines and gives you the full story, no matter how bizarre. Past stories have included a man being injured by his own pager, a robber hailing a cab as his getaway car, and police uncovering a catapult attack plot.
The Anti-Clown Page
Do clowns give you the heebie-jeebies? You're not alone. In fact, many folks are frightened of those painted humorists we call clowns. This site has a photo gallery of scary clowns as well as a story section full of real-life bad clown experiences. One story describes a clown robot that chased a kid at a party.
Forrest J. Ackerman's Wide Webbed World
Imagine if your house was completely filled with horror movie props and artifacts? Then you'd have something in common with Forrest J. Ackerman. He collects molds of faces from famous movie monsters such as Boris Karloff and Bela Lugosi. He also has a model of a stegosaurus from the original King Kong movie, not to mention the golden idol prop from Indiana Jones and the Temple of Doom. Go to the Vault section to see his other treasures, and don't forget to check out his site for contests and puzzles galore!
Feelin' Groovy
If Leif Garrett and David Cassidy made your heart beat a little faster as a preteen, you'll appreciate this homage to teen idols from the 1970s through the 1990s. The site has brief biographies of singers that had short-lived fame but plenty of hype. Think Hansons vs. the Partridge Family.