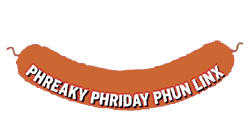 Jan. 29, 1999
Band-O-Matic
Nothing is more frustrating than having a rockin' band without a name! The Band-O-Matic site helps you find a hip band name in a matter of seconds. Just keep hitting the Uno mas button and you'll get plenty of suggestions. How about The Inferior Catwomen, or Asphalt Buffet, or maybe Combustible Migraine? The possibilities for a truly memorable band name are endless!
Thrift Store Paintings
Before the art world became a group of untouchable snobs, there was a little genre we liked to call folk art. Actually, it's a bit less legit than that. It's called thrift store art. These are the paintings you see for sale at Goodwills and thrift stores across the country. This site displays some of the oddest pieces of artwork you can imagine. Think portraits of toilet paper and pink poodles.
Bass Tab Archive
If you're learning how to play the bass guitar, or just want to play some of your favorite bands' songs, then the Bass Tab Archive site is the place to be. Here you can search the index for songs from such bands as the Pixies, Smashing Pumpkins, Nirvana and the Foo Fighters. The site also has tabs from classic legends like the Doors and Jimi Hendrix.

Pet of the Day
What makes an iguana extra cuddly? Or a pot-bellied pig super cute? On the Pet of the Day site, you can browse through images of pets that are supposedly cool in their own right. Each pet of the day has a listing of its stats, including name, age, breed and home. And these aren't just cats and dogs either. One of the past winners just happened to be a possum. Perhaps you should nominate your own friendly creature and watch your pet catapult into stardom.
Pursuit Watch
How many times have you been reading a book or taking a nap and missed watching a high-speed police chase on TV? With Pursuit Watch, that'll never happen again. Every time an O.J.-type chase goes down on the telly, the thoughtful folks at Pursuit Watch will page you for a small price. And if you notify them of a chase, you could earn a $100 reward!
The Jalopy Journal
If you like hot rods, you're going to thank me for sending you to The Jalopy Journal. This Web zine has photos galore of vintage hot rods. Check out the featured cars section for photos and collectors' information.
Cocktail Shaker Collection
You don't have to be a member of the Rat Pack to own an impressive lot of cocktail shakers. Steve T. is a serious collector, and he has the photos to prove it. See not only a vast array of cocktail shakers, but also coasters, drink stirrers, napkins, shorties and recipe books.
Five-0 Central
Ever wonder why police officers like to eat donuts? Or why some officers turn on their emergency lights, go through a red light and then turn them off? Find out from an actual cop on his site, Five-0 Central. There's even a special section all about dumb criminals!