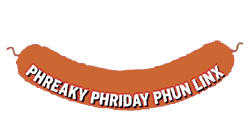 Feb. 12, 1999
Hand Transplant
Is your existing hand too wrinkled or missing due to some shop accident gone wrong? Now you can get the brand-new hand you only dreamed about with this handy site. Actually, this is a big deal in the medical world. In fact, only two people have successfully gone through this mind-boggling medical procedure. Learn all about the surgery, and check out the photos of the happy guy with a new hand!
Gas Masks, Inc.
Before you waste money on a cool pair of sneakers, maybe you should think about buying an clothing accessory that could come in handy during those Y2K riots - a gas mask. This online store sells a wide array of masks, including the MCU-2/P, which is currently used by the United States Navy and Air Force. If you want a quality gas mask, prepare to spend some serious dough. Most are priced in the hundreds. Safety isn't cheap.
Last Words
People say the strangest things right before they die. When John Wilkes Booth was shot after killing President Lincoln, he mumbled, "Tell mother I died for my country . . . useless . . . useless." When the priest who was sitting at Charlie Chaplin's bedside said, "May the Lord have mercy on your soul," Chaplin replied, "Why not? After all, it belongs to Him." Read other famous people's final quotes, as well as their epitaphs, wills and obituaries.
Ted Knight Fan Site
You probably recognize Ted Knight from his role as Ted Baxter on the Mary Tyler Moore Show, or as Judge Smails in the cult classic golf flick Caddyshack, but did you know he also was the voice of the narrator for the cartoon Superfriends? Or that he had a small role as a prison guard in the movie Psycho? Find out more trivia about this legendary comedic actor.
AccuWeather X-Forecast
What weather conditions are best for watching UFOs? Go to AccuWeather's special section on the weather forecast for that hotbed of alien activity, Roswell, N.M. Not only can you look up the forcast for the entire week, but you can also read interesting alien facts.
DinerCam
If staring at people while they eat sounds like a good time to you, then stop by the DinerCam. Located inside the White Mana diner in New Jersey, the live camera updates images of customers eating cheap hamburgers every 30 seconds. If you live in the Hoboken area, the site also offers a coupon for a 25-cent burger.
The Sideshow Bob Gallery
As one of the more intelligent charcters in the Simpsons cartoon, Sideshow Bob is Bart's biggest foil. See Sideshow Bob escape prison and take his revenge on Bart with images from this tribute site. The multimedia section has tons of photos of Bob. But if that's not enough, fans can listen to sound files of his sarcastic comments such as "My foolish caperings destroyed more young minds than syphilis and pinball combined!"
Fab Facial Furniture
Facial hair can be hip if you know what to do with it. The Fab Facial Furniture site specifically pays attention to celebrities who have sideburns. Go to the Groovy Grips area to see which stars rate as having the best sideburns. Past contenders include Elvis, Mr. T, Neil Young and Cornelius from Planet of the Apes.