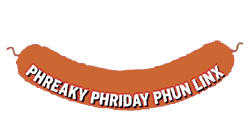 Feb. 26, 1999
National Association of Amateur Elvis Impersonators
Every Elvis impersonator seems to have a gimmick. In fact, the Webmaster of this site claims he's the nude impersonator when really he wears sporty, gold underwear. However, he does have an impressive hairdo. Read about other popular impersonators, or buy your very own Nude Elvis postcards. Don't forget to take a look at the Elvis artwork section, which features portraits of the King wearing a space uniform, sporting a severed head and eating at the Waffle Hut.
The Cow Liberation Army Faction
Just because they taste good with barbecue sauce, it doesn't mean they don't have rights! The Cow Liberation Army Faction wants to free all imprisoned cattle. They claim to use violence on fences, barns and other things that "keep cows from their freedom." The site has stories about their successful missions freeing cattle as well as inspirational letters from fanatics. Check out the cute cow babe of the month while you're thinking up a way to free your prisoners of the pasture.
The Best Public Toilets in New York City
Let's say you really have to use the bathroom while you're wandering the cold streets of New York City, but you're afraid to go into a nightmare of a stall. What do you do? Visit this page for brief reviews of the best places to relieve your bladder. The site breaks down the areas into eight neighborhoods: Downtown, West Village, East Village, Chelsea, Midtown West, Midtown East, Upper West Side and Upper East Side.
Iron Chef
Iron Chef combines the competitive spirit of pro wrestling, the showmanship of Liberace and the skills of Julia Child. It's a Japanese cooking show where world-renowned chefs compete to see who can make the best four dishes from one selected ingredient in one hour. According to an article on the site, "The host of Iron Chef is a strange, dramatic man in an appalling tuxedo jacket. The show opens with him taking a huge bite out of a bell pepper and staring at the camera with a look that says, 'I'm probably crazy. Why not watch my program anyway?'" Some of the foodstuffs used in the Iron Chef battles include black pig, eel, lettuce and scorpion fish.
Tortilla Art
It's OK to play with your food as long as it's pretty. Make big snowflakes and silly masks with plain old tortillas. If you don't like it, you can always eat it and start over. Make your Halloween costume from Mexican food fixings!
Convert a School Bus into a Motor Home
Martha Stewart would appreciate this site about one man's quest to convert an old school bus into a motor home. Bob Sokol explains why you should paint your school bus home another color besides yellow, and why you should insulate the bus like you would a regular house. When he's finished, it actually looks really cool.
Pug Park
Pug dogs are so darn cute. At least, this Web site proclaims their beauty. Enter the Pug Park to appreciate this breed with arts and crafts ideas. The park begins with many birthday wishes to pug pets around the world, but toward the bottom of the site you'll notice certain sections to help you learn about these special little pups. Check out the instructions for a pug party to liven up any birthday, whether it's for a human or not.
Single Dad TV Hall of Fame
Being a single dad isn't an easy job. But if Andy Griffith can do it, so can you. This site is dedicated to the single dads of television. Created by a single dad himself, this site reminds us of some of the more famous single TV dads such as Bonanza's Ben Cartwright and Sanford and Son's Fred G. Sanford. Even Johnny Quest's father was a single dad.