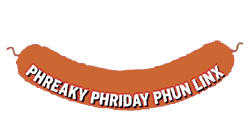 April 9, 1999
Creek Central
How much do you know about Pacey? Who would you like Joey to start dating? If you want to learn more about the TV show Dawson's Creek, go to the best fan portal around, Creek Central. There you'll find reviews of the cream of the crop in Creek fan sites, including fan fiction, games and so much more.
Amazing Puppets
Want to buy a dummy? Actually, this might be the best place for you to find a wide selection of ventriloquist dolls. Even if you don't feel like becoming a puppeteer, this site has enough animated GIFs of scary puppets to entertain anyone for hours.
The Dancer
Every once in a while, one comes across a site that makes you happy that Shockwave is around. Meet the Dancer. You control this little robot, and he happily dances himself into a frenzy to pounding techno music. Make him boogie like a mechanical madman.
The Inscrutable 8-Ball Revealed
Ever wonder why that Magic 8-ball seems to know so much about your future? You're not alone. The people at this site decided to crack the Magic 8-ball open to see what makes it so powerful. You might be surprised to see what they found.
Extropy Institute
Who will survive and thrive in the next century - man or machine? The Extropians are banking on it being our metal brethren. In fact, they would gladly trade their fleshy brains for ones made of steel gears if they could. Read about this odd religion, and see why they might just outlive even the cockroaches. Who said the Tin Man needed a heart?
The Games We Used to Play
Do you have childhood memories of playing stickball in the street and hanging out on the stoop? Relive your glory days with photographs featured on The Games We Used To Play. The site has stories as well as photos submitted by people who don't want to forget their urban games.
Epidemic
Sometimes the tiniest microbe can cause the worst disaster. On Epidemic, the American Museum of History takes you through a tour of some of the most infectious diseases in the world. Read the history of hantavirus, a virus carried by rodents, or learn how outbreaks occur in the first place. It's an interesting look at what makes us sick.
Land of the Lost Socks
Missing a sock from the dryer? Or is there a bigger conspiracy at work? Now you can send a simple email asking the folks at Land of the Lost Socks if they've spotted your hosiery. Your sock might not be missing at all, but on vacation.