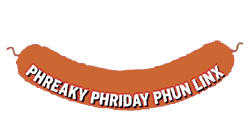 May 7, 1999
Richard Smith's Compendium of Britishisms
Planning a trip to London and want to know if the locals are mocking you? Study up on British slang, with Richard Smith's Compendium of Britishisms. Here's a handy list of commonly used words that are often used to insult Americans. So if someone calls you a "mucky pup," you'll know that you should walk away quickly. Because this site is by definition a directory of insults, you might want to skip it if you are easily offended.
Tips on rodents
If you've ever had furry, unwanted guests living in your home, you're going to need this site. Trust me - mice are smart. They just don't waltz right into traditional traps anymore. You have to outsmart them. And part of the game is learning their habits. This site, hosted by Orkin, tells you all about rodent trivia that might help you catch the little fellows. Did you know that one pair of mice can produce 200 offspring in just four months? Or that both wet and dry rodent urine glows under ultraviolet light? See for yourself why it's so hard to get rid of Mighty Mouse.
Cockpit Voice Recorder Last Words
Nothing's more frightening than hearing a plane crash, except for maybe hearing the last words from the pilot as the plane goes down. It's scary to see that some pilots were under the impression that they were going to have a perfect landing before something went terribly wrong. The site also has a few audio files so you can actually hear the panic in their voices. This is one of the scariest sites I've ever seen, or heard.
Ebike
Is it a bike? An electric scooter? Find out why Lee Iacocca is so interested in these high-tech bikes. Some of them sell for over $1,200 - so you might want to start saving those pennies!
Dilberito
Let's say you're a hungry engineer. What would you eat? A nice plate of pasta? Or perhaps a bucket of fried chicken? Nope. If you're a true stereotypical digital soul, you should be buying into the marketing plan of Scott Adams and grabbing a few Dilberitos. These burritos come in Mexican, Indian, barbeque, and garlic and herb flavors. Is nothing sacred?
Dancing Hervé Villechaize
Sometimes long-forgotten TV stars make the best dancers. Take Hervé Villechaize for example. He was the helpful and short assistant on Fantasy Island. Remember him? Well now you can see him boogie oogie to an invisible beat on your computer screen.
Fred
Remember that Commadore 64 game where you had to take care of a little guy named Bob? He lived in a big house and you had to call him and feed him to keep him alive? Well, Fred is very similar. Only Fred is slightly off-center. In fact, he's a deadbeat who just lost his job and is very bitter about the whole thing. He takes way too many showers, tends to get drunk often and yells at people for constantly dialing the wrong number. This is another site which might be slightly offensive - but for the rest of us, he's just like the roommate we've always wanted.