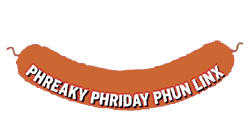 November 22, 1996


Joe the Circle
Just because he's a simple geometric figure doesn't mean he's boring. Read the comic adventures of a circle who likes to make trouble for his friends. While you're visiting, ask Dr. Joe a question and download a free Joe the Circle screensaver.

Matchstick Rockets
Build a functional rocket in minutes with some paper matches, aluminum foil, a straight pin and a paper clip. Be sure not to play with the makeshift rockets near flammable objects, and don't use them as weapons. After all, science is our friend.

The Completely Unofficial Leonardo DiCaprio Page
When Leonardo DiCaprio was cast as Romeo in the new remake of the Shakespeare classic, his teenage fans were not surprised. Get the gossip on this young heart throb and find out why so many people are taken with his wit and charm. This fan site has enough photos and interviews to make even Leo blush with gratitude.

Fashion for the chemical set
Going to a riot but have nothing to wear? Looking for a gas mask to bring out the color in your eyes? Search no further, chemical fashions are here! The post-nuclear war gallery has lots of images of new and antique gas masks for you to enjoy.

Random Chick-en
Every time you hit the Reload button, your eyes will be delighted with a brand-new chicken image. Chicken fans can also submit their own fowl pinup pictures for the collection.

Surgical Camp Supports
If you have weak abs and a crooked back, you may need a surgical camp support to sit up straight. The images look like they were scanned from a 1950s Sears catalog. The Victoria's Secret catalog should take the hint and show their models in X-ray vision too.