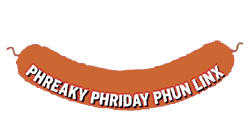 July 2, 1999
Skateboard Science
Skateboarding isn't as easy as you think. In fact, there's quite a bit of science to it. This site from the San Francisco Exploratorium science museum explains the physics behind fundamentals such as the ollie, the frontside and Caballerials. See if you can do their suggested skateboarding activities based on what you've learned, or impress your pals by spouting off skate lingo from the glossary.
In-N-Out Burger
If tasty hamburgers are on your mind right about now, then you should do your stomach a favor and visit the In-N-Out Burger site. There's an online menu and a history of this eatery. Too bad they don't deliver.
The Stellar Acting Career of Troy McClure
Phil Hartman's untimely death also brought an end to Troy McClure, one of the most beloved characters on the Simpsons. According to Troy, this self-obsessed character has been in so many movies, TV shows and educational films, it's hard to keep track. This site is a handy list of all his accomplishments. Who could ever forget Troy's performance in Locker Room Towel Fight: The Blinding of Larry Driscoll or P is for Psycho.
The Duh! Files
Forget that boring, normal news. You can read tales of stupidity every day! The Duh! Files bring you headlines that only stupid people could make happen. Some of the more memorable stories include a man who had to fish in the lake for his false teeth and a zoo visitor who was assaulted by a giraffe.
John Hughes Files
Did the movie Ferris Bueller's Day Off change your life? Can you identify with the nerd in The Breakfast Club? Were you obsessed with Molly Ringwald in Sixteen Candles? Then you should join the rest of the members of the John Hughes appreciation society on this site. The John Hughes Files has trailers of flicks like Some Kind of Wonderful and Flubber. Check out all the films he's made, or look up key words in the A to Z files. Test your memory in the trivia section, and see who originally was asked to play the character Duckie in Pretty in Pink.
Moog Cookbook
A good cover band is hard to find. However a cover band who goes beyond playing the hits and reinvents the original sound is virtually impossible to contemplate. Meet the the Moog Cookbook. You'll never listen to songs like Soundgarden's Black Hole Sun or Nirvana's Smells Like Teen Spirit the same way again. Check out the multimedia section for audio and video clips.
Zane: The Last Clown
Imagine if all clowns were forced underground and they had to live like rats in the sewers. That's the premise of this online comic about a clown gone bad - very bad. If you aren't afraid of men who resemble Bozo, you will be.