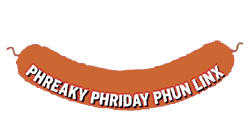 July 9, 1999
The Art of the Mix
Making a mix tape isn't as easy as picking a few songs and hitting the record button. You have to find the right set of tracks to make a masterpiece. Submit your own idea for a mix tape, or find out what other ears like.
Who Is That?
Remember the guy who played the neurotic principal in the movie Ferris Bueller's Day Off? Or the actress who played Dirk Diggler's mom in Boogie Nights? Some actors have many supporting roles before anyone knows them by name. We see their faces and recognize the movies they're in, but that's about it. This page pays tribute to them. Read about Vincent Schiavelli, Jeffery Jones and others who we recognize - sort of.
The Muppet Movies Lyrics Archive
Having a bad day? Maybe if you sang a little Muppet song, you'd feel better. The complete lyrics to such classics as The Rainbow Connection and Happiness Hotel are listed, so you have no excuses just to hum along with the melody.
Drum Machine Museum
Where would bands like Kraftwerk and Erasure be without their drum machines? Visit the Drum Machine Museum to see how far music has come since the very first Columbia Rhythm Box from the '60s. The site has an extensive photo gallery of all types of drum machines as well as sound files. That's one impressive flam!
Hello Kitty Tarot
The next time you want to do someone's tarot reading, instead of using traditional cards, grab the Hello Kitty deck instead. The cute characters will surely soften the blow a little when you end up with the death card. According to the site, the Hello Tarot deck is a fully usable Tarot deck, and contains nearly all of the elements of the Rider-Waite Tarot deck. You can even buy the deck right off the site.
Nerf Center
Any kid who's ever tried to get away with playing football indoors understands the thoughtful plea, "But Mom, I won't break anything - it's Nerf!" Here at the Nerf Center you'll find product reviews about the latest Nerf products, which include backpacks, toys and more.
Museum of Black Superheroes
Superman and Batman aren't the only cats in the crime-fighting business. In fact, there's a bunch of superheroes you probably haven't even met like Mr. Terrific and Shadowhawk. The Museum of Black Superheroes introduces you to a variety of overlooked heroes with a history.