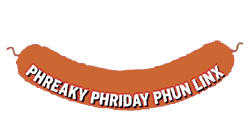 July 23, 1999
The Varieties of the Balloon Hat Experience
It's not every day you see African tribesmen wearing balloon hats. Follow a photographer as he travels across the globe taking pictures of everyone from soldiers to Buddhist monks modeling his balloon fashions.
CyberSingle Promotions
Looking for your soul mate but don't know where to start? How about the morning commute? Let being stuck in traffic work in your favor. All you have to do is put up a special Bumper Bait bumper sticker, and romance might be at the next exit ramp. With catchy phrases like "Honk Now, Chat Tonight" and "Caught You Looking," you can't help but wonder what kinds of emails you'll get.
Free Comics
If you like entering contests and you read comics, then this is the spot for you. Every week this site gives away comic books, statues and other collectibles. Good luck!
Spaced Out: The Enoch Light
Innovative design and experimental music combine to make Spaced Out: The Enoch Light. Here you'll find animated record covers and the history of this unusual record label. Read interviews with people like Chris Dedrick from Free Design or jazz great Dick Hyman.
Solemates: The Century in Shoes
For every decade there seems to be a shoe that personifies the spirit of the times - the platform shoe from the '70s, the aerobics tennis shoe from the '80s and go-go boots of the '60s. In this interactive tribute to shoe fashion, you can gaze at footwear up close and personal.
The B-Movie Channel
Staying up late to watch TV, you've probably seen at least one B movie. Imagine if you had an entire channel dedicated to bad films? With the B-Movie Channel your dreams are a reality. See the channel's program lineup of everything from cult horror films to silent classics. Test your knowledge of B movie trivia with an online quiz, or read profiles about the directors who made these funky films.
Fametracker
Here's a celebrity gossip site that refuses to pull punches. Get the latest dirt on the actors and actresses that thrive under the spotlight. One of the better features of this site includes the Baldwin Obscurity Clock. How many hours has it been since Alec Baldwin's last hit, anyway? In the Fame Audit section you can read the site's assessment of stars like Claire Danes, complete with a list of liabilities.
Postal Trucks for Sale
Wondering what your next cruise mobile will be? Should you test-drive a new sport utility vehicle or a shiny BMW? If you really want to stand out in traffic, why not buy a used postal truck? Think of all the attention you'll get! The valet parking attendents won't know how to operate it. It'll be great. On this site there's contact information on how to buy one in your area.