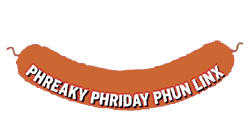 Aug. 13, 1999
Bitter Waitress
Sometimes being a waitress can really be a downer, especially when the tips are lousy and the customers are downright rude. Listen to the stories Bitter Waitress has to tell, and you might leave a better tip next time.
The 50 Greatest Comics of the 20th Century
Is the Man of Steel more important than Batman? Where does Wonder Woman belong on the list of influential superheroes? Check out the 50 Greatest Comics of the 20th Century site to see how your favorite comic books rate. You might be surprised to see which ones made the list.
Psycholaborations
If you want to collaborate on a song with the former lead singer of the Smithereens, now's your chance. Pat DiNizio will compose music to your heartfelt lyrics for a mere $350. Write a song about your pet goldfish Fluffy or about your obsession with paper clips. Pat doesn't care as long as your check is good. Who knows, maybe your tune on the evils of marshmallow Peeps will win you both a Grammy.
Macaroni Art Game
Relive your special memories of making noodle masterpieces with the Macaroni Art Game. This Shockwave game lets you choose from six faces and one peaceful landscape to decorate with pasta.
Chimp Channel
Spoofs of Martha Stewart and Baywatch are great, but they're even better if they're done by chimps. On the TBS network, you'll find a quality program called the Chimp Channel. Here chimps act out various scenes from popular TV shows and movies. They wear wigs and everything! What more can you ask for?
Duct Tape on the Web
How many times has duct tape saved your life? Think about it. Millions of people use duct tape every day just to keep their beloved objects from falling apart. But when is the last time you truly thanked your lucky stars for its existence? I bet you don't even know who invented duct tape, do you? You better visit this site to find out.
SwingMoves
You have the wingtip shoes and the hipster jacket, but do you have the moves? SwingMoves shows beginner dancers how to do moves like the Chicken Walk and the Sailor Shuffle. Broken down into beginner, intermediate and advanced levels, this site has something for every cool cat.
Total Tetherball
Believe it or not, this game actually has rules. It's not just a way to weed out the weak elementary school students during recess. Instead of smacking the ball as hard as you can, try brushing up on your serving strategy. You could end up as the supreme ruler of the playground!