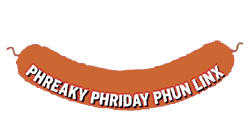 Sept. 3, 1999
Build Your Own Cow
You don't have to be a talented scientist to clone a cow. In fact, you can make your own bovine masterpiece online with the Build Your Own Cow site. Choose the number of heads, tails, legs and spots you'd like your cow to have, and with an easy click you have a bizarre-looking farm animal staring right back at you. Old MacDonald would be proud!
Lederhosen Wahnsinn
Bored with the latest fashion fads? Maybe you should start your own. No piece of clothing says "trendsetter" like a pair of brand new lederhosen! With 3,500 pairs in stock, you're bound to find a style right for you. Too bad their catalog isn't online. You could always email them and ask if they have what you want.
eHow
If you want to know how to open a can of paint or how to shake hands with a stranger, then eHow is here to help. At first glance, you might think the site helps with complicated issues, like how to do your taxes or shop for the right life insurance. But eHow has plenty of other answers to rather easy questions such as how to clip your toenails, tie your shoes, tell a knock-knock joke or stretch your neck. Check out the Relationships and Pets section to learn how to refuse a date and feed a monkey at the same time.
The Lost Dream of Opal Whiteley
The Lost Dream is a diary of a young girl named Opal Whiteley. Born in 1897, Opal describes fairy inhabitants that may have been real or imagined. Because she died in 1992 in a mental hospital in England, we only have her writing and images to guide us through her unusual world of make believe.
Toys Were Us
Before Quake came along, there was a high-tech game called Pong. And before Pong, there was the Slinky. Discovery Online pays tribute to old-school toys like theseon the Tots Were Us site. Read about the history of Barbie, skateboards, frisbees and more. Be sure to vote for your favorite toy!
Social Security Death Index
Ever wonder if you're still alive? Now you can find out faster than looking for your pulse! Go to the Social Security Death Index, type in your social security number, and see if you're still alive.
DogStar
The next time you have nothing to say at a dinner party, try guessing everyone's age in dog years. On this site, tell them your age, and in seconds you'll find out how old you really are as a dog.