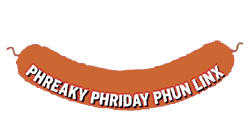 Oct. 22, 1999
Elite Titles
Have you always wanted an artistocratic title, but don't happen to have been born in a noble family? Now you can get respect the old-fashioned way - by buying your way in. For a mere $325, you can buy the title of Lord, Lady, Baron, Baroness, Count, Countess, Viscount, Viscountess, Marquis, Marchioness or Sir. Soon, people will be looking at you with a new air of dignity.
Commercial Archive
If you're one of those people who like commercials better than TV shows, perhaps you should stop by the Commercial Archive. This site has most recent commercials about everything from food to clothes. But the real gems are the old commercials for toys and video games from the 1980s. Who can forget advertisements for the first My Little Pony, or Ms. Pac-Man?
Life Along the Fault
With recent earthquakes hitting places like Taiwan and Turkey, it's only a matter of time before the Big One hits California. In fact, some scientists are predicting that the Bay Area will be struck with a massive earthquake by the year 2030. So before everything starts shaking, take a look at the San Francisco Exploratorium's online exhibition on earthquakes, called Life Along the Fault. See how architects build for the possibility of earthquakes, and read the stories behind the historic 1906 quake.
Jim's Journal
Jim is a simple kind of guy. He doesn't make waves, or try to upset the status quo. In fact, at first glance Jim might seem a bit boring for a comic strip character. The comic shows his daily life, no matter how dull it is. Watch Jim go to a movie, get a sore throat, visit the mall and other regular activities.
Scooby.CartoonNetwork.com
Scooby Dooby Doo, where are you? Just in time for Halloween, the Scooby.CartoonNetwork.com site has a spooky adventure for the gang. Read Scooby trivia, play games and watch videos from episodes such as the Haunted House Hangup and the Mystery Mask Mix-Up.
Halloween Do-It-Yourself Projects
Planning on throwing a stellar Halloween party? Want to transform your apartment into a creepy haunted house? Then go to the Halloween Do-It-Yourself Projects site for tons of ideas on how to make weird holiday props. Some of the better crafts include a bleeding portrait, a talking skull, a giant ceiling spider, a head in a jar and more.
Play Along Britney Spears Doll
It was only a matter of time before the pop singer phenomenon known as Britney Spears had her own doll. On the Play Along Toys site, look at all the different variations of Britney you can buy. Get the video collection doll, which wears various outfit from Britney's popular music videos, or pretend you're on tour with the concert collection doll. Now all we need are Backstreet Boys dolls.
Fuller Up The Dead Musician Directory
Musicians sometimes lead self-destructive lives. It's often hard to keep track of which rock stars are alive and which ones weren't lucky enough to escape death. Use the Fuller Up The Dead Musician Directory to find out who's still rockin' and who's pushing up the daisies.