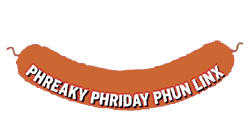 Nov. 19, 1999
Popular Science: 1999 Best of What's New
What's the coolest invention that debuted in 1999? Was it Aibo the robot dog? Or the Meade Autostar Controller Telescope? Or perhaps the DaimlerChrysler Fuel Cell Car? See what the editors of Popular Science magazine think is the wildest invention of 1999.
Biospeleology
When a habitat is without light and the usual oxygen source, you have to wonder how bizarre the wildlife might look. This site explores the secret world of cave biology, also known as biospeleology. See photos of bizarre creatures that may have mutated over the years to adapt to cave life. Some of the scorpions are downright creepy.
Polly and Esther's Tea Party
Originally developed for the Nickelodeon channel, Polly and Esther's Tea Party is a cartoon with a morbid cuteness to it. Polly and Esther are the the aunts you were forced to visit over the holidays. They smell funny, dress weird, and drink tea with milk and lemon. Oh, and they're zombies, too. Literally.
Life Beyond Earth
How sure are you that we are alone in the universe? Life Beyond Earth takes a closer look at the possibility of other life forms in space without using the typical X-Files approach. The site showcases information from the PBS film by Timothy Ferris. Read the resources and draw your own conclusions.
NOVA: Decoding Nazi Secrets
Ever wonder how we decoded secret messages intercepted from the Nazis during World War II? NOVA: Decoding Nazi Secrets is a companion Web site to the documentary about how the Allies cracked the infamous German message-coding machine called Enigma. Meet Jim Gillogly, the best non-government cryptanalyst in the U.S. Send your own coded message to a friend.
WWII Propoganda Posters
Nothing helps the masses rally behind a nation during war time more than a well-thought out propaganda poster. This site exhibits some of the more thought-provoking images of the war, like a sad dog in front of a flag, or a selfish commuter riding with an invisible Hitler.
Winter Trails
Before the blizzard hits, I hope you have a backup plan for how to get around. Winter Trails is one of the best directories on snowmobiling on the Web. Find snowmobiling sites sectioned off by location in both the U.S. and Canada. The site also has tech tips such as "Clearing up carburator confusion" to help keep your snowmobile in top shape.
Supertramp MIDI Jukebox
Supertramp is the kind of band everyone remembers, but we refuse to admit in public that we still own one of their records. So if you secretly desire to hear "Give a Little Bit" or "It's Raining Again," then you should check out this MIDI jukebox on the Supertramp and Roger Hodgson fan site.