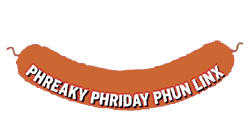 Dec. 24, 1999
Experience California
If you want the cheap thrill of being in a fake earthquake, this site's for you. Experience California isn't fancy, but it'll shake around on your screen as though you are sitting through your very own natural disaster. It's all the fun of a real earthquake without the fear of anything falling on your head.
Gallery of Huge Beings
Have you ever driven along the highway, minding your own business, only to be greeted around the bend by a 500-pound Lumberjack statue? On the Gallery of Huge Beings, you can find information on bizarre roadside statues of muffler men, hamburger creatures and unusually large animals.
Micro$oft
If Bill Gates played Monopoly as a kid, his game board probably would have looked like this site. Micro$oft has similar places as the Monopoly game only instead of railroads there's WebTV, and instead of Free Parking, it's the Free Software Foundation. Check out all the different places you can land. You might be surprised to see what's replaced Park Place.
GoatCam
Nothing is more exciting than watching a goat sit around all day. GoatCam lets you watch the goats Alf, Bambi, Bee Bop, Emile, Korina and Sirena as they hang out and eat grass. If you're lucky you might catch the goats butting heads.
Googie Architecture
If you've seen a space-age type house, you'll probably recognize Googie Architecture. During the late 1950s and early 1960s, Googie-style houses and buildings thrived in southern California. Places like Bob's Big Boy restaurant and Satellite Shopland were built with the Googie style of boomerang shapes, flying saucer themes and starbursts in mind. Read up on the history of Googie, and see for yourself why this form of architecture was so popular.
Wildbrain.com
Can't get enough cartoons and animations? Wildbrain.com has an eclectic selection of short animated films for your enjoyment. Enjoy the cult classic Lenny Bruce cartoon, Thank You Mask Man, or watch a disgruntled rodent use the voice of Orson Welles complaining on the set of a TV commercial, in Orson Rat.
Volunteer for Change
Want to help out your community but don't know where to start? Volunteer for Change is a handy site that lets you find volunteer work to be done in your neighborhood. Simply type in your ZIP code, how far you can travel, when you want to volunteer and in what category. Then the site will list places that need your help now. There's a volunteer category for just about anything including the environment, human rights, animals, arts and culture, politics and more.
The Longevity Game
Take this short quiz to help determine how old you'll live to be. Depending on how much you exercise, if you smoke or drink and how much fat you have in your diet, you could live to be 100 years old. Or not.