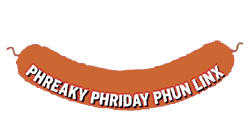 Jan. 7, 2000
Movie-List
If you're one of those types of people who don't like having to actually go to the movie theater to watch the trailers, don't worry. That's what Movie-List is for. Watch all the latest trailers with this handy database. The site has Hollywood and independent films, as well as a handy list of film release dates. Now all you need is virtual popcorn.
Funology.com
You don't have to be a kid to learn a thing or two. Funology.com shows you the fun side of science. Make amazing paper airplanes. Solve riddles. Fill your brain with trivia. Head into the kitchen for interesting recipes. Amaze your friends with magic tricks. The fun never ends.
Slighty Off Center
There's the mainstream news, and then there's news that's hard to fathom. On Slighty Off Center, you can read weird news stories about such events as the police finding a full-sized fiberglass horse stranded in the middle of a busy intersection. You're not going to see that on the evening news.
The Nerdman Show
Here's a guy who's seen The Truman Show one too many times. Nerdman has eight cams at work and nine cams at home so you won't miss a thing. See if you can find where he is, or try searching for his wife and cats.
Lobster Cam
There's something rather sinister about watching a lobster get caught in a trap. On Lobster Cam, spy on unsuspecting lobsters as they wiggle around looking for a way to escape. And sometimes they just sit there in the dark. Poor little critters.