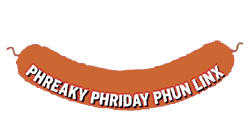 Feb. 11, 2000
Coffeekid.com
Is coffee simply a beverage or a state of mind? Mark Prince, otherwise known as Coffeekid, thinks there's a definite art to coffee drinking. In fact, this obsessed coffee drinker has plenty of stories and tips to share about the almighty java bean. Read over 100 reviews of coffee and espresso makers. Or simply stare at his collection of coffee images.
Jan Svankmajer: Alchemist of the Surreal
Jan Svankmajer is a legendary stop-motion animator whose imagination ignited on screen with such films as Faust and Conspirators of Pleasure. His weird creatures sometimes consist of real taxidermied animals or denture-wearing sock puppets, as in the characters of his version of Alice in Wonderland called Alice. This site not only has a filmography of all his work, but also his artwork, poems and other media Svankmajer has created. Learn about this cinematic genius and see what you've been missing.
DVD Review: Hidden Features
So you have a brand-new, shiny DVD player - now what do you do? Well before you go and buy a bunch of DVD movies, be sure to check out this site. DVD Review: Hidden Features lists many popular DVD movies that have hidden content, also known as Easter eggs. For example, on the DVD of Austin Powers: The Spy Who Shagged Me, there's a 20-minute Comedy Central special hidden in the special features section. This site lists Easter eggs from such DVD titles as Alien, Field of Dreams, Raising Arizona and more!
Skullwell Predicts
If you're a fan of Tim Burton's movie The Nightmare Before Christmas, then you might get a kick out of Skullwell Predicts. This short film features a stop-motion skeleton reciting the introduction to Ed Wood's cult classic flick Plan Nine From Outer Space.
Boo Berry cereal fan site
Everyone remembers the cereal characters Count Chocula and Frankenberry, but what about the obscure ghostly character Boo Berry? Here's a fan site that gives this character the equal time it deserves. Read essays about how poor Boo Berry was never given a chance to succeed as a cereal. In fact, if you like this cereal enough, there's information on the site that shows you how to order Boo Berry directly from General Mills. Yummy!
Peter Max Online
During the '60s and '70s, Peter Max's artwork and illustration decorated everything from bare walls to inflatable pillows. He's even painted a Continental airplane! Visit Peter Max Online to see where his art is being shown now.
HotWired Han Solo Art Gallery
If you had the chance to decorate a drawing of Han Solo, how would you do it? Would you create a collage, or glue dried pasta and beans to his body? See who won the HotWired Han Solo art contest.