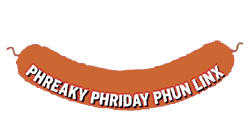 Feb. 18, 2000
Unfortunate Valentine's Cards
Did you get a card this Valentine's Day? If you didn't, maybe you should count yourself lucky. The Unfortunate Valentine's Cards site displays and defines some of the more bizarre cards that have existed over the years. Most of these vintage cards can be rather cryptic and creepy at the same time. What would you do if someone gave you a valentine featuring a half-pear, half-human creature?
Cryptozoology.com
It's creepy, furry and completely unnamed! If you love studying about creatures like the Loch Ness Monster and Bigfoot, you'll be sure to learn a lot on Cryptozoology.com. The site has photos, drawings and video clips of strange creatures such as the Kongamato and the Architeuthis.
Dee Snider
If you listened to heavy metal music during the late '80s, you'll recognize Dee Snider. He was the lead singer of the makeup-saturated band Twisted Sister. On his official site you'll find information about his horror flick Strangeland, as well as his radio show.
Photobetty
Think of Photobetty as the place where women photographers can get together and show their work. Read essays and look at photos from such professional photographers as Jeanie Adams-Smith, Pauline Lubens and Heather Stone.
Hommage a Hedy Lamarr
Most of us remember Hedy Lamarr as an actress in old black and white movies. But few realize she helped pioneer frequency-hopping for World War II torpedoes, which then ended up being a technology used by mobile telephones today. This site shows the many lives of Hedy that her film fans may have never known.
McGruff.org
Sometimes it takes a smoker-voiced dog in a trenchcoat to truly scare some sense into troubled teens. Meet McGruff. This animated character has been telling youngsters to "take a bite out of crime" for two decades. Is it working? Maybe you should go to this site and see for yourself.