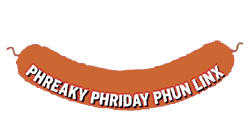 March 31, 2000
Junk Store Cameras
One person's piece of junk is another person's vintage camera. On the Junk Store Cameras site you can get excellent information on all kinds of retro equipment from the Barbie camera to the Rollei Magic camera. You might be surprised by the high-quality photos that can be created by these "toy" cameras.
Out of the Frying Pan
Learn to cook meals like a rock star with tips from Out of the Frying Pan. In this issue, bassist Laura Ballance of Superchunk gives her recipe for Dottie's Roasted Vegetables and Sausage. You can also read great advice on how to clean old grease stains off the bottoms of your pans. Check this site often for unusual recipes, valuble cooking tips and plenty of personality.
Wink Martindale
Remember the host of such game shows as Tic-Tac-Dough and High Rollers? Wink is one of those hosts that seems to pop up everywhere. His official site doesn't have clips of his game show days, but you can download some funny MP3 clips of Wink as a "time-and-temperature rock jock" in the '50s and '60s. Be sure to check out photos of Wink hanging with the Pat Boone family and Johnny Mathis.
Pat Harrington
Pat Harrington is best known as Dwayne Schneider on One Day at a Time. He made being a handyman look kind of cool. But Pat did more than play a sarcastic guy with a plunger in hand. He's been in movies with Elvis, James Coburn, James Garner and Robert Redford. He's also guest starred on the TV shows: Murder She Wrote, Silk Stalkings and the Jenny Jones Show. Email Pat and tell him how much you wish he was on another TV series!
The Mojave Phone Booth Site
If you had the phone number of a pay phone in the middle of the Mojave Desert, would you call it just for kicks? Well Godfrey Daniels did. In fact, he called it every day for a month until someone answered. Then he transcribed the discussions he had with people on the other end of the phone. If that wasn't enough, he and his pals took a road trip to see the phone booth in person. Now thanks to his site, it might just be the most famous random phone booth on the Web.