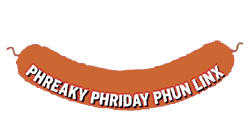 April 7, 2000
The Orphanage of Cast-Off Mascots
Anyone who pays attention to commercials knows that the easiest way to get a customer to remember your product is to attach a cute character to it. But not all characters stand the test of time, and many are abandoned for a shinier, happier mascot. In the Orphanage of Cast-Off Mascots you'll find commentary about such characters as Plywood Pete, Ima Wantad and Mr. Coffee Nerves.
Historical Nuclear Weapons Test Films
Watching a nuclear blast isn't something we all aspire to do. But now you can gaze at the horrifying destruction of a mushroom cloud without having to worry about the complete destruction of the human race. The Nuclear Weapons Film Declassification Project, initiated by the U.S. Department of Energy, is now making films of bomb tests available to the public. Watch short video clips of Operation Ivy and many more previously classified tests, and be hopeful that you never have to see one in person.
Bizarre Stuff
Just because you're not taking Chemistry 101 doesn't mean you have to stop learning. Bizarre Stuff has plenty of science experiments you can do at home. The site has categories to interest just about any mad scientist. Create a crystal rock garden. Make a pinhole camera. There's even a recipe for homemade slime.
Journal of Mundane Behavior
This is a real scholarly journal from the Department of Sociology and the College of Humanities and Social Sciences at California State University, Fullerton. The publication is "devoted to the study of the unmarked—those aspects of our everyday lives that typically go unnoticed by us, both as academics and as everyday individuals." Read an article about the relationships Japanese people have with each other inside and outside elevators. Or ponder the cultural significance of male facial grooming with the article entitled "I'm sick of shaving every morning."
Bewitched.com
Sometimes it's fun just to watch a Web site come to life infront of you. It's easy to become bewitched with the mesmerizing animations on this site. Stare at the changing shapes in the kaleidoscope-like section called Wallpaper. Or follow the dots as they chase each other in a circular maze. Just don't get dizzy looking at the whirligig.