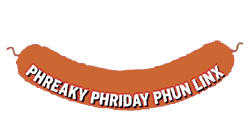 May 19, 2000
Save the Prairie Dogs
They dig holes in your yard, drive the neighborhood dogs crazy and completely destroy your vegetable garden. But they sure are cute little critters. Help save the black-tailed prairie dogs by signing an online petition or join the WatchDog program to keep an eye on the varmints in your area.
The Ultimate Build Your Own Cow Page
You don't need a Ph.D. in genetic engineering just to clone your own cow. If your mad scientist instincts take over, that's perfectly fine. Make a cow with seven legs and two heads and call him Frankencow.
Derek's Big Website of Wal-Mart Purchase Receipts
For all of the pack rats in the world who hate to throw the littlest item in the trash can, there's Derek's Big Website of Wal-Mart Purchase Receipts. As the name reveals, this is nothing but an extensive gallery of receipts Derek has accumulated for about five years from his many shopping sprees at Wal-Mart. What's more interesting than all those receipts are the comments people post right next to each receipt. There's even a small fan club forming in honor of the Wal-Mart manager, Matt Kreig, whose name is printed prominently on top of the receipts.
Naming the Saints
Did you just get a puppy and don't know what to name him? Helping a pregnant pal think of an interesting baby name? Look no further. Give a baby or a pet a saintly name with this resource. Each name has an explanation of the saint and what he or she did. Alphonse Jr. will thank you when he's old enough.
Bert & Bud's Vintage Coffins
Don't put off buying a coffin until it's too late. Bert & Bud's Vintage Coffins is online for your convenience. Browse all their styles to pick your final resting place, or get a coffin to store your stereo in.