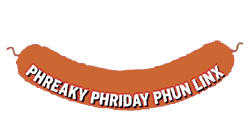 June 16, 2000
Junkyard Wars
Imagine if you and your friends divided into two teams, went to a junkyard and gave each other a deadline of 10 hours in a race to build a contraption out of scrap metal that could run on land or water. That's exactly what happened on this site. Watch videos of the teams frantically building unusual machines, and enter to be a part of the next war yourself.
Maori Culture
How much do you know about the Maori people? These native tribes comprise 15 percent of New Zealand's population. Tattooing and art are large parts of their culture. Learn about their history, people and culture. Be sure to check out the cookbook too for authentic Maori recipes like creamed paua and kumara pie.
Pancakes Across America
If you love eating pancakes, you'll appreciate this site which features portraits and sketches of this popular breakfast dish. Look at all the artistic renderings of pancakes from restaurants and diners in Maine, Iowa, Colorado, Arizona and many other places.
Gray's Anatomy of the Human Body
Based on the well-known book, this companion site gives extensive information on every bone, joint, organ and muscle in your body. Pre-med students and artists alike will like the extremely detailed drawings. You're a walking piece of artwork!
What Tree Is It?
The next time you're in a park, play a quick game of What Tree Is It? This site proves photos and descriptions of every kind of tree you can imagine including pine, cedar, hemlock and chestnut trees. Learn how to identify a tree just by looking at a single leaf or fruit. You might end up even impressing the squirrels with your newfound skills.
The Alternative Museum
Not all museums have to be stuffy places full of ancient paintings. In this new digital age, sometimes the most profound works of art can only be found online. Browse through exhibits of Web-based, digital and non-digital art.