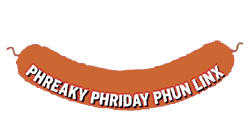 July 7, 2000
Cockeyed
Robert Cockerham is not your ordinary artist. He likes to take photos along the Sacramento city bus line, he replaces stolen food signs with his own creations and he makes unusual papier-mache sculptures of Elvis and aliens. The more you wander through his Web site, the more you'll wonder if there's anything his creative mind can't think up.
Cyborg Name Generator
Sick of your boring, old name? Type your name into the Cyborg Name Generator and discover what your ultra-dangerous cyborg name would be.
All Magic Guide
Abracadabra! Even if you're missing the white rabbit in your hat, you can still perform cool magic tricks with a little help from this online guide. Get the latest news and reviews magicians can use. Or read updates about magician conventions and events. There's even a radio station so you can tune in for interviews and commentary.
Loud Paper
Zines don't always have to be about obscure bands or long-forgotten TV shows. Loud Paper is a zine dedicated to "increasing the volume of architectural discourse." Check out the articles on such random topics as an intern's adventure in her local Target store and a review of the cages at the Saigon Zoo.
Observing Obscure Kulture
Here's a zine that really brings home personal points of view about everything from TV programming during the '70s to essays about exotica music. Read an article about how Chryslers were once equipped with hi-fi stereos. Or laugh aloud at an essay about a meeting with TV star Danny Bonaduce. Don't miss the Product Placement Gallery of advertising, packaging and ephemera.